2012 World Series of Poker ›
Event 13: $1,500 Limit Hold'em
It too has been a rough day for Jeff Weiss. He came into today as one of the bigger stacks with 171,000, but it has been a downward spiral today. Here's the hand that did most the damage.
Roland Israel raised it up in late position, and Weiss called. David Arsht also called in the big blind, and the flop came down
. Arsht checked to Israel who bet out, and Weiss called. Arsht check raised, and Israel folded. However, Weiss came along. Arsht bet on the turn, the
, and the river, the
, and Weiss called both times. Arsht showed
, and Weiss tapped the tabled before open mucking
.
That knocked him down to just 12,000, thought he did double up a few hands later. He shoved in the small blind with
, and Jennifer Harman called in the big blind with
. Weiss flopped two pair and held, and he got the first of what will need to be a few double ups if he wants to be a contender again.
Chip Counts
David Arsht
165,000
35,000
Jeff Weiss
30,000
-112,000
Tags: David Arsht, Jeff Weiss.
Unfortunately we didn't catch the hand, but we can confirm that Eric Blair has been eliminated from the tournament; as such, Al "Sugar Bear" Barbieri has been moved to Table 446 to balance things out.
Chip Counts
Eric Blair
Busted
Tags: Eric Blair, Al Barbieri.
Donald Auger put in a raise to 12,000 from middle position and was soon met with a three-bet to 18,000 by Jed Dickerson in the small blind. After the big blind got out of the way, Auger made the call and watched the flop come out
. Dickerson wasted little time in putting out a bet, Auger called and the
appeared on the turn.
This time Dickerson slowed down, though he did check-call a bet from Auger. The
river saw Dickerson check for a second time, and he ended up folding when Auger put out a bet.
Chip Counts
Donald Auger
170,000
70,000
Jed Dickerson
39,000
-50,000
Tags: Donal Auger, Jed Dickerson.
It was a pretty rough day for Joshua Biedak. He came into today alittle under average with 84,000, but was never able to get anything going. Eventually, Alex Queen raised in middle position, and Biedak called off his last 10,000 in the small blind. Isaac Haxton folded his big blind, and the two flipped their cards.
Biedak:

Queen:
It was about a good a spot as Biedak could hope for with four high, until the flop came
. This left Beidak with just a five for a straight to win, but the board finished
and
. Queen won the hand, upping his stack to 160,000, while Biedak left to collect his money.
Chip Counts
Alex Queen
160,000
94,000
Joshua Biedak
Busted
Tags: Alex Queen, Joshua Biedak.
Chris Swan opened for two bets and cleared the field around to Michael Noori in the big blind, who promptly three-bet. Swan, who knew his opponent was short, out in the four-bet and Noori called off his remaining 5,000.
Showdown

"He's even got a diamond," a resigned Noori said after the
flop. The
turn gave both players a flush, though Swan's nine was higher. "I still have one out," Noori pointed out in reference to the
. Unfortunately for him, it wasn't in the cards as the
appeared on the river. Noori finished in 24th place and will take home $6,652 for his efforts.
Chip Counts
Chris Swan
365,000
109,000
Michael Noori
Busted
Tags: Michael Noori, Chris Swan.
Chris Winchester entered today as the short stack with just 21,000, so we were expecting to see him get his chips in early. Sure enough, we walked to his table and saw that he was all in on a flop that read
against Leonid Bilokur and Donald Auger. The turn came the
, and Bilokur led out. Auger raised, and Bilokur released his hand.
Auger:

Winchester:
Winchester would need an ace or an eight to survive, but the river was the
. He went to the rail, while Auger is up to 100,000 after the hand.
Chip Counts
Donald Auger
100,000
25,000
Chris Winchester
Busted
Tags: Donald Auger, Leonid Bilokur.
Action folded around to Ben Landowski in the cutoff and he put in a raise, which was called by Jeff Weiss in the small blind. The latter the check-called a bet on the
flop before check-folding to a bet on the
turn.
Chip Counts
Ben Landowski
216,000
26,000
Jeff Weiss
142,000
-29,000
Tags: Ben Landowski, Jeff Weiss.
The players are in their seats, and the cards are in the air!
Level 19 started
Posted 2012-06-07 GMT-6
Level:

19
Blinds:

3000/6000
Ante:

0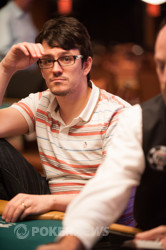 Welcome back to the Rio! We are coming to you live from the Amazon Room for Day 3 of Event 13: $1,500 Limit Hold'em. Yesterday, we knocked the tournament down to just 25 players, and we will hopefully play down to a winner today, though there is a 3:00 AM hard stop in place. Leading the way is Leonid Bilokur, who comes into today with 318,000 in chips. Ian Johns and Chris Swan are nipping at his heels, and there's a few other notable names who still have a shot at the bracelet.
Al "Sugar Bear" Barbieri leads the notables in chips, bringing 214,000 to the tables. He will be joined by the likes of Roland Israel (199,000), Isaac Haxton (72,000), and Jennifer Harman (60,300).
We will be underway in about 15 minutes here. The blinds will start today at 3,000-6000, with the limits being 6,000-12,000. We will be here all day to bring you all the action. Thanks for tuning into Pokernews, and very shortly, we will shuffle up and deal!