2012 World Series of Poker ›
Event 13: $1,500 Limit Hold'em
Day 1 completed
Posted 2012-06-06 GMT-6
Event 13: $1,500 Limit Hold'em
Day 1 completed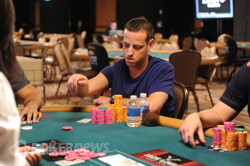 Day 1 of Event 13: $1,500 Limit Hold'em is in the books, and after eight levels of play, Tom Cage is leading the way with 50,500 chips.
The event attracted 730 runners, which was more than 2012, 2011, and 2010. There were several big names, including Phil Ivey, Daniel Negreanu, Shaun Deeb, Dwyte Pilgrim, Andy Bloch, and Matt Hawrilenko. Unfortunately, those players are all busted, and will not be among the 81 players who make the money.
Among the 222 remaining contenders are 2009 November Niner Eric Buchman (32,000), Roland Israel (25,500), Jennifer Harman ($24,900), Issac Haxton (21,700), Huck Seed (19,900), John Racener (17,900), Justin Bonomo (5,500), and Michael "The Grinder" Mizrachi (19,900).
The play today was a little loose, and a lot of the players were enjoying adult beverages, but things will start to get more serious tomorrow as we approach the bubble. Day 2 will begin 2 p.m. local time, and the action will take place here in the Amazon Room.
Make sure to check back with PokerNews for all of your up-to-the-minute updates at the 2012 World Series of Poker. Good night from Las Vegas!
Tags: Eric Buchman.
The well-dressed Ben Yu was just seen gathering his things and leaving. There are no chips where he once sat, meaning that he's been eliminated from the tournament.
Chip Counts
Ben Yu
Busted
Tags: Ben Yu.
The tournament clock is frozen at 10:00, and a floor person pulled a tre from the deck tonight, meaning that we will play three more hands this evening.
The drinks have been flowing all night in Event 13: $1,500 Limit Hold'em, but now that there's less than fifteen minutes remaining in the day, the servers are busier than ever. In fact, on Table 371, one beer order turned into half a dozen. Eric Buchman was the last to speak up, but he was eventually peer-pressured into ordering a brew.
"Yeah," he finally said after a moment for thought. "I'll take one too."
Chip Counts
Anh Van Nguyen
8,100
-3,200
Jennifer Leigh
7,000
-6,000
Ben Yu
3,250
-2,950
Rep Porter
Busted
Tags: Anh Van Nguyen, Ben Yu, Jennifer Leigh.
If you've traveled the World Series of Poker Circuit at all, then you've certainly heard of Roland Israel. Israel is famous for winning the 2010 WSOP-C Main Event at Caesars Atlantic City, and then final tabling it again the next two years. Israel has over $1 million in live career tournament earnings, and is in the field today.
When we reached his table moments ago, the was heads up with the gentleman on his left, and the board read
. Israel's opponent check-called a bet, and the turn brought the
. Both players checked,
The river was the
, and Israel's opponent led out. Israel raised immediately, and his opponent tank-called. Israel rolled over
for the nuts, and his opponent unhappily mucked.
Chip Counts
Roland Israel
23,500
4,500
Tags: Roland Israel.
Chip Counts
Al Barbieri
26,500
22,000
Fabrice Soulier
19,500
15,500
Tags: Al Barbieri, Fabrice Soulier.