2012 World Series of Poker ›
Event 13: $1,500 Limit Hold'em
Day 2 completed
Posted 2012-06-07 GMT-6
Event 13: $1,500 Limit Hold'em
Day 2 completed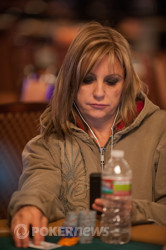 When we started today's play, 222 players were still alive and in contention for a coveted gold bracelet in Day 2 of Event 13: $1,500 Limit Hold'em. After 10 hours full of min raises, we are down to just 25. Leading the way is Leonid Bilokur, who bagged up a mountain of chips that totaled 318,000. Not far behind is Ian Johns, who is taking 258,000 into tomorrow, and Chris Swan, who has 256,000.
Only 81 of the 222 players that started the day left with extra money in their pockets. Amongst the players who didn't make it to the money plateau were Chad Brown, Jason Mercier, JC Tran, Michael Mizrachi, Matt Glantz, David Sklansky, Randy Lew, and Huck Seed, who ended up being our bubble boy after an up and down ride on the money bubble.
We also lost a handful of notable faces after the bubble burst. Amongst them were Justin Bonomo, Men "The Master" Nguyen, Humberto Brenes, Brett Jungblut, John Racener, and Eric Buchman.
We didn't lose all the notables though. Roland Israel will have 199,000 when he comes back tomorrow. Isaac Haxton(72,000) is still around looking for that elusive first bracelet. Jennifer Harman (63,000) will also be joining us tomorrow, as will Alex Queen (66,000) and Al "Sugar Bear" Barbieri (214,000).
That wraps it up for us tonight! We will be back tomorrow at 2:00 PM, where we will play down to a winner. Be sure to stay tuned to Pokernews for every flop, turn, and river. Until then, so long from Las Vegas!
Each table will deal three more hands before we are done for the night. Once that happens, we will get updated chip counts for everyone who's left.
We are down to just 27 players, and play has been stopped so that they can have a full redraw. Once the new tables are set, we will get a full seating chart up.
Roland Israel raised in late position, and Jed Dickerson was the only caller in the small blind. Dickerson check called a bet after the flop,
, and the turn,
. The
hit the river, and both players checked. Israel showed
for second pair, and Dickerson mucked his hand. After that pot, Dickerson dropped to under 150,000, while Israel jumped to 265,000.
Chip Counts
Roland Israel
265,000
25,000
Jed Dickerson
148,500
-26,500
Tags: Roland Israel, Jed Dickerson.
Action started with Ian Johns in middle position, and he made it two bets. Haxton three bet in the cutoff, and it was on Daniel Ospina on the button. He went all in for 16,500, and after the blinds folded, Johns and Haxton made the call. The flop came down
, and Johns check raised Haxton. Haxton called, but folded when the
hit the turn and Johns bet again.
Johns:

Ospina:
Johns hit his gin card on the turn, filling up and leaving Ospina drawing dead. The meaningless river was the
, and Johns collected the pot, upping his stack to 225,000. Meanwhile, Haxton is down to just 57,000 after the hand.
Chip Counts
Ian Johns
225,000
Isaac Haxton
57,000
-83,000
Daniel Ospina
Busted
Tags: Ian Johns, Daniel Ospina, Isaac Haxton.
A player in early position raised, and the cutoff made it three bets. It folded to Jed Dickerson in the big blind, and he put in a fourth bet. The first raiser folded, but the second one called. The flop came down
, and Dickerson kept it going with another bet. He was called, and he bet again when the
hit the turn. This time his opponent folded, giving the pot to Dickerson, who is now up to 175,000.
Chip Counts
Jed Dickerson
175,000
70,000
Tags: Jed Dickerson.