2012 World Series of Poker ›
Event 15: $5,000 Seven Card Stud Hi-Low Split 8-or-Better
Day 1 completed
Posted 2012-06-07 GMT-6
Event 15: $5,000 Seven Card Stud Hi-Low Split 8-or-Better
Day 1 completed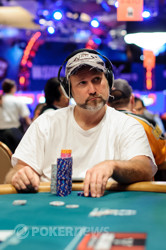 After eight levels of play, Day 1 of Event 15: $5,000 Seven Card Stud Hi-Low Split 8-or-Better is in the books. A total of 212 players ponied up $5,000 to play today, generating a prize pool of $996,400. The top 24 players will receive a minimum of $9,675, each member of the final table is guaranteed $27,012 and the winner will take home a whopping $269,037.
Chris Tryba, who already has two top-seventeen finishes in Stud events at the 2012 World Series of Poker, leads the remaining 137 players with 63,600 chips, but biting at his heels are Phil Ivey, Bryan Devonshire, Abe Mosseri, Allen Bari, Chad Brown, Todd Brunson and his father Doyle Brunson.
There were a few notable players who were unable to make it through the day, including Maria Ho, Matt Glantz, Jeffrey Lisandro, Jon Turner, Shaun Deeb and Jon Aguiar.
For "Texas Dolly", this was his first event played at the 2012 WSOP. The 10-time bracelet winner has been very public on Twitter about why he's playing so few events and it was great to see him back in action. When he first sat down at the beginning of Level 5, Nolan Dalla announced his presence over the P.A. system, and the Godfather of Poker" received a well-deserved round of applause. Perhaps he can run his stack up on Day 2 tomorrow, and take a shot at Phil Hellmuth's record of eleven WSOP gold bracelets.
Ivey locked up his first cash of the 2012 WSOP earlier today when he won his table in Event 14: $1,500 No-Limit Hold'em Shootout, and he's also got a large stack in this event. He won a massive, four-way pot with quad sixes during one of the first levels of play. Ivey started the hand rolled up, and was dealt the fourth sixth on fifth street. Nobody qualified for the low, and Ivey scooped the whole kit-n-kaboodle. Tomorrow, he'll once again be double dipping with two events, which was been common this WSOP.
Day 2 begins at 2:00 PM local time tomorrow. Be sure to check back on PokerNews.com for all of your up-to-the-minute updates from the 2012 WSOP. Good night from Vegas!
Tags: Chris Tryba.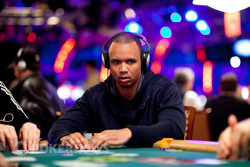 Don't look now, but Phil Ivey is building a stack.
Chip Counts
Phil Ivey
48,000
21,000
Tags: Phil Ivey.
Chip Counts
Matt Glantz
Busted
Matt Lefkowitz
Busted
Maria Ho
Busted
Jim Collopy
Busted
Nick Schulman
Busted
Antony Lellouche
Busted
Tags: Maria Ho, Matt Glantz, Matt Lefkowitz.
Allen Bari just made a pair of aces and a seven-five low against Fabrizio Gonzalez to scoop a decent pot and move to 31,000 in chips. Gonzalez didn't show and mucked his hand. He dropped to 21,000 in chips.
Chip Counts
Allen Bari
31,000
4,000
Fabrizio Gonzalez
21,000
Tags: Fabrizio Gonzalez, Allen Bari.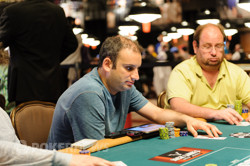 During the first break of the tournament, there was a collection of players lingering around and talking about side bets. The center of attention was Abe Mosseri, who very confidently stated, "I'll bet against anybody in any event - except for Ivey."
Matt Glantz - who's seated at an adjacent table with a good view of Mosseri's stack - has been seen eying Mosseri's total all night, and Barry Greenstein just asked us, "What's Abe got?"
When we returned and told him that Mosseri has around 38,000 chips, Greenstein muttered unhappily under his breath.
Chip Counts
Abe Mosseri
38,000
24,600
Tags: Abe Mosseri, Matt Glantz, Barry Greenstein.