2012 World Series of Poker ›
Event 16: $1,500 No-Limit Hold'em - Six-Handed
Day 2 completed
Posted 2012-06-09 GMT-6
Event 16: $1,500 No-Limit Hold'em - Six-Handed
Day 2 completed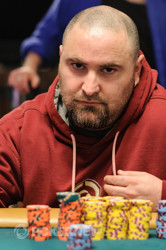 Day 2 of Event 16, $1,500 Six Handed No Limit Hold'em, of the World Series of Poker is in the books. Just 137 of the 1,604 entrants returned today and only nine remain. Leading the march to the final day is Robert Muzzatti with 1.445 million.
Nipping at Muzzatti's heels is Mark Darner, who bagged up 1.412 million. Mike Matusow finds himself third in chips with 816,000. Capable pros Matt Glantz (774,000), Mark Radoja (556,000) and Matt Matros (542,000) all lurk behind.
It was a day that saw many notable pros hit the rail, including; Allan Le, Raul Paez, Matt Hawlrilenko, Huy Nguyen, Tony Dunst, Andy Frankenberger, Andy Seth, Kathy Liebert, James Akenhead, Chino Rheem, Steve Zolotow, Tristan Wade and overnight chip leader Nick Maimone.
Matusow is looking for his fourth WSOP bracelet. He last made a WSOP final table in 2008 in the $10,000 Omaha Hi-Low World Championship, which was just ten days after he won his third bracelet in a $5,000 2-7 Triple Draw. He spent most of the day with a below average stack but rallied at the right times to survive.
Matros will be looking to add a third WSOP bracelet to his wrist in as many years. His bracelet in 2010 came a Limit Hold'em event and last year's bracelet was in a Mixed Hold'em event. He also has two Main Event cashes to his credit.
Tenth Place finisher, an amateur, Elio Cohen played in his first WSOP event. He saved up all year to play and when Glantz asked why he picked this event he said, "Since I only had one event to play I might as well see some hands. It was worth it."
Day 3 will start promptly at 1:00 p.m. PST in the Amazon Room and we'll play down until we crown a new bracelet winner. Follow all the WSOP action live on PokerNews.com.
Official Chip Counts

| Player | Chips |
| --- | --- |
| Robert Muzzatti | 1,445,000 |
| Mark Darner | 1,412,000 |
| Mike Matusow | 816,000 |
| Matt Glantz | 774,000 |
| Gordon Vayo | 730,000 |
| Jonathan Currle | 621,000 |
| Mark Radoja | 621,000 |
| Matt Matros | 542,000 |
| Ramey Shaio | 333,000 |
They will play two more hands before bagging and tagging their chips.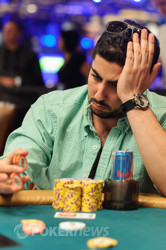 Mark Radoja opened the hand with a raise to 24,000, Mark Darner called from the button and then Matt Matros moved all in from the small blind. Elio Cohen announced all in from the big blind so fast that Matros hadn't even gotten his chips all the way forward.
Radoja and Darner tossed their cards away to see Matros attempted to make a player holding
. Cohen was in good spirits holding
.
The flop hit them both when it rolled out
. A blank
on the turn didn't help anyone but the
river gave Matros a second pairt and Cohen his walking papers.
Chip Counts
Elio Cohen
Busted
Tags: Elio Cohen, Matt Matros.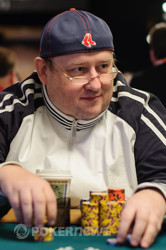 It seems like every time we look over at the tournament area, a player is all in. That has just happened again very recently and resulted in the elimination of Gulyy Yury in 12th place. The player who busted Yury was none other than Mike Matusow.
It started when Yury opened it to 30,000. Matusow was in the big blind when he enquired how much Yury had left. Satisfied with the answer he received, Matusow shoved his stack in and Yury made the call.
Yury:

Matusow:
When the
flop was dealt, it was bleak times for Yury. It didn't get any better on the turn (tc} or the river
and that was it for Yury.
After Yury had left the table, in typical "The Mouth" fashion, Matusow said, "They say i can't play No-Limit Holdem anymore. I'm gonna win this thing and tell all those [email protected]#&ing kids to shove it up their asses."
Chip Counts
Mike Matusow
850,000
250,000
Gulyy Yury
Busted
Tags: Gulyy Yury, Mike Matusow.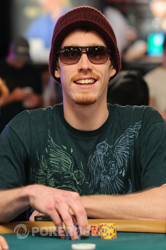 Randy Christing's elimination in 13th place has seen the 12 remaining players redraw for their seats. Christing's last hand saw him all-in holding
against Mark Darner's
. The
board was not pretty for Christing as Darner took down another big pot and Christing was sent out the door.
With that, we will have the new table draw up for you, post haste!
Chip Counts
Randy Christing
Busted
Tags: Mark Darner, Randy Christing.