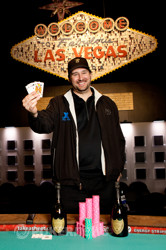 On Sunday, the 2012 World Series of Poker continued with the third and final day of Event #18 $2,500 Seven Card Razz. What began with 309 players was down to the final 18, each looking increase their share of a $702,975 prize pool with the ultimate goal of capturing the $182,793 first-place prize.
The big story headed into the day was 11-time bracelet Phil Hellmuth, who was sitting third in chips and primed to make a run at a record 12 bracelets. Standing in his way were some experienced players including chip leader "Any Two" Brandon Cantu; 2008 Razz champion Barry Greenstein; and Don Zewin, who actually took third to Hellmuth and Johnny Chan back in the 1989 WSOP Main Event.
Last year, Hellmuth came close to bracelet 12 on three different occasions only to be denied. While his three runner-up finishes were impressive, they left him wanting. When would he get his elusive twelfth? In the early morning hours of Monday, that question was answered when he took down Event #18 $2,500 Seven Card Razz!
A short-stacked Scott Clements set the pace for the day as he was eliminated on the very first hand. Over the course of the next three hours, nine more players would hit the rail on the way to the final table; however, no one would come closer than David Rosenau, who earned the unfortunate distinction as final-table bubble boy.
Rosenau, who was the short stack during nine-handed play, was eliminated when Scott Fishman brought it in with a
and Brandon Cantu completed. Rosenau then raised all in for 14,000 total, which both Fischman and Cantu called. Fischman proceeded to check-call bets on the turn, fifth and sixth, and then bet when Cantu checked seventh. Cantu thought for a long time before he folded.
Fischman: (x-x) /
/ (x) (
)
Rosenau: (x-x) /
/ (x) (
)
Cantu: (x-x) /
/ (x)
Rosenau ended up with three pair and was dispatched in ninth place by Fischman's 7-6-5-4-3 low.
Here's a look at the players who were eliminated on Day 3 short of the final table:
Pre-Final Table Eliminations
| Place | Player | Prize |
| --- | --- | --- |
| 9th | David Rosenau | $13,827 |
| 10th | Scott Abrams | $13,827 |
| 11th | Calvin Anderson | $10,945 |
| 12th | Gerald Ringe | $10,945 |
| 13th | Jared Bleznick | $8,780 |
| 14th | Jeff Mervis | $8,780 |
| 15th | Chris "Pi Master" Viox | $7,135 |
| 16th | Dan O'Brien | $7,135 |
| 17th | Chirs "Fox" Wallace | $5,904 |
| 18th | Scott Clements | $5,904 |
The first elimination of the final table came when Brendan Taylor completed with a
and then called a raise from Jeff Misteff. The latter bet the turn before calling a bet on fifth. Misteff's last 10,000 went in on sixth and the cards were tabled.
Misteff:
(x) /
/ (x)
Taylor:
/
/
We didn't get a good look at Misteff's cards, but we do know he was drawing dead headed into seventh street. He finished in eighth place and parted with a $17,693 consolation prize.
In another hand, Michael Chow fired out a bet on the turn and was called by Hellmuth, who was showing a pair of aces. Fifth street saw Chow fired out another bet, but this time Helluth quickly raised. "You can just say all in," Hellmuth told Chow, who only had 10,000 behind. While he didn't say it, Chow did commit it.
Chow:
/
/

Hellmuth:
/
/
Sixth street gave Hellmuth a nine-low, which meant Chow needed to improve on seventh. He squeezed out his card and didn't see any pips, meaning it was either a deuce, three or ace. "You've got two of the aces though," Chow said, knowing it was the only card that would save his tournament life. He then flipped and revealed a
. With that, Hellmuth chipped up to 500,000 and sent Chow home in seventh place.
Former Razz champ, Greenstein, was the next to go:
Greenstein:
/

Cantu:
/
Greenstein completed, Hellmuth released, and Cantu examined Greenstein's stack before raising. Greenstein called. On fourth street, Cantu led out, and Greenstein raised. Cantu re-raised, putting Greenstein all in, and Cantu called.
Greenstein:

Cantu:
Greenstein was dealt a
on fifth, Cantu received a
, and then both players were dealt
s on sixth. Cantu flipped over a
on seventh, while Greenstein squeezed his down card.
"I'm even money," Greenstein said, grinning. "It's either the six or eight of hearts."
The
would pair him, and the
would give him the best hand. Unfortunately for the Bear, it was the
eliminating him from the tournament. Greenstein received a loud round of applause, and he's off to the cage to collect his $30,150.
The next to go was Brendan Taylor. It happened when he completed with a
, Cantu raised with an
, and Taylor re-raised. The rest of the chips got in, and the hands were opened.
Taylor:
/

Cantu:
/
Both players were dealt paint on fourth street - Cantu a
and Taylor a
- and both players received a
on fifth. Cantu improved with a
on sixth, Taylor received more paint (
), and Cantu turned over a
on seventh. We missed Taylor's last card, but he mucked, and exited the tournament in fifth place.
After returning from the dinner break, Cantu brought it in, Don Zewin completed, and Fischman raised. Only Zewin called. Fischman called a bet on fourth street, and when Zewin paired on fifth, Fischman led out. Zewin called, and Fischman bet all in on sixth. Zewin called.
Fischman:
/
/

Cantu:
/
(FOLDED)
Zewin:
/
/
Zewin was turned over a
on seventh, so Fischman was drawing, but the
did not improve his hand. Fischman was eliminated in fourth place, while Zewin moved into second on the chip counts.
A short time later, Zewin brought it in with a
and was met with a completion by Hellmuth. Cantu came along for the ride, Zewin got out of the way, and it was off to the turn. Cantu ended up with the lead and bet out, which prompted Hellmuth to ask for a count.
"Can't afford to let you bluff me," Hellmuth said. "Let's put it all in." He then raise and put the pressure back on Cantu, who though for about 40 seconds before three-betting. Sure enough, his chips ended up in the pot and his tournament life was at risk.
Cantu:
/
/ (x)
Hellmuth:
/
/
Hellmuth had the best hand when the money went in and maintained the lead through sixth. Hellmuth quickly showed the
he received on seventh, which meant Cantu needed either a six, seven or ace on the river to win. He squeezed it out slowly and there were no pips visible, meaning it could be an ace. He said it was also a heart, and the
was alive. He completed the squeeze and all the tension disappeared when he turned over the
.
Hellmuth's hand held to send Cantu to the rail in third place, and also give him a commanding chip lead headed into heads-up play.
It would take awhile before Hellmuth finished off his opponent as he took a slow and steady approach to the match; however, in the end Hellmuth had a date with destiny as he captured bracelet number 12 in 2012!
Event #18 $2,500 Seven Card Razz Final Table Results
| Place | Player | Prize |
| --- | --- | --- |
| 1st | Phil Hellmuth | $182,793 |
| 2nd | Don Zewin | $113,024 |
| 3rd | Brandon Cantu | $74,269 |
| 4th | Scott Fischman | $54,248 |
| 5th | Brendan Taylor | $40,167 |
| 6th | Barry Greenstein | $30,150 |
| 7th | Michael Chow | $22,945 |
| 8th | Jeff Misteff | $17,693 |
Congratulations to Phil Hellmuth on taking down his record twelfth gold bracelet!
$2,500 Seven Card Razz Champions Since 2004
| Year | Player | Entrants | Prize |
| --- | --- | --- | --- |
| 2012 | Phil Hellmuth | 309 | $182,793 |
| 2011 | Rep Porter | 363 | $210,615 |
| 2010 | Frank Kassela | 365 | $214,085 |
| 2009 | Jeff Lisandro | 315 | $188,390 |
| 2008* | Barry Greenstein | 453 | $157,643 |
| 2007* | Katja Thater | 341 | $132,653 |
| 2006* | James Richberg | 409 | $139,576 |
| 2005* | O'Neil Longson | 291 | $125,690 |
| 2004* | TJ Cloutier | 195 | $90,500 |
*Featured $1,500 buy-in.
That does it for our coverage here in Event 18: $2,500 Seven Card Razz, but there is still plenty of action to be had here at the 2012 WSOP. Visit our Live Reporting section to see which events are happening now.
Tags: Phil Hellmuth.
Given the speed of the hands, the two remaining players have been waiting for the automatic shuffler to complete in between hands; as such, Phil Hellmuth recently inquired as to whether or not they could switch to a hand shuffle. Don Zewin didn't have a problem with this so they asked the floor, who then radioed his superior.
The two players stopped action for a bit (with the clock running) while waiting for an answer, but it didn't come in a timely fashion. Eventually it was agreed that they would use the machine when the deck was ready, but they'd do a hand shuffle if the hand completed before automatic shuffler.
Tags: Don Zewin, Phil Hellmuth.