2012 World Series of Poker ›
Event 25: $1,500 Limit Hold'em Shootout
Sean Rice raised preflop and was three-bet by Ian Johns. Action folded back around to Rice who threw in a call. The dealer rapped the table and brought forth a flop of
. Rice checked to Johns who flicked out a call. Rice called and both players were off to fourth.
The turn brought the
and Rice took this opportunity to bet. Johns called and the
came on the river. Rice bet and was called once more. Rice flipped up
for a flush and Johns mucked his hand.
Brian Meinders has just taken down a few extra chips early, with a recent hand seeing him, Preston Derden and Victor Ramdin taking to a
flop in a raised pot. On the flop, Ramdin and Derden checked to Meinders and he fired out a bet. Both players called and a
turn was dealt. Both players again checked and Meinders flicked out another bet. Derden got out of the way here and Ramdin called.
When the
completed the board on the river, both players opted to check at which point Ramdin said, "ace-high." Meinders then tabled his
and Ramdin's cards went into the muck.
The next hand after this one and Meinders would open it up with a raise from the cutoff and all the players folded as Meinders flashed his
and raked in the blinds.
Chip Counts
Brian Meinders
210,000
38,000
Tags: Brian Meinders, Preston Derden, Victor Ramdin.
Action folded around to Preston Derden who raised. Right behind him, Christopher Hartman tossed out a three-bet only to find Brock Parker four bet the action. Derden and Hartman both called and the three players were off to the flop.
The flop came down
and both players checked to Parker who continued out with a bet. They both called and the
came on the turn. All three players opted to check this betting round and the
completed the board.
Derden and Hartman checked to Parker who tossed out one last bet. Derden called and Hartman folded his hand. Parker showed
for Broadway which was way ahead of Derden's
. Parker was able to drag in a nice pot early with this hand.
Chip Counts
Brock Parker
195,000
30,500
Here is quick rundown on the first three hands that played out here at the final table.
Matt Schreiber and Christopher Vitch played out a small hand that ended up going the way of Schreiber
Brian Meinders opened it up from middle position and the two blinds got out of the way.
Folded to Christopher Hartman in the small blind, he raised it up and Victor Ramdin called out of the big blind. The board was spread along the felt, with Hartman check calling a bet on the flop and turn and both players checking on the river. Ramdin's wasn't strong enough for the of Hartman.
Chip Counts
Christopher Hartman
192,000
29,500
Matthew Schreiber
185,000
25,500
Brian Meinders
172,000
9,600
Christopher Vitch
137,000
-25,000
Victor Ramdin
136,000
-29,500
Tags: Brian Meinders, Christopher Hartman, Matthew Schreiber, Victor Ramdin.
The players have been introduced and are ready for limit hold'em action. By the end of the day we will have a new gold bracelet winner here at the 2012 World Series of Poker. Let's go!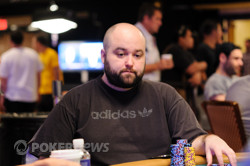 After defeating either a seven or eight handed table on Day 1 and a five handed table on Day 2, ten people remain in contention for the $116,118 first place prize as well as the gold World Series of Poker bracelet.
Since each remaining player has bested two tables of limit hold'em action, the remaining ten are guaranteed at least $7,164.
Leading the way today is Victor Ramdin who is looking for his first WSOP bracelet. Ramdin conquered a stacked table yesterday that included the likes of JJ Liu and Greg Mueller. Ramdin was then able to come out on top in a grueling heads up match against Justin Bonomo to secure his seat today.
Also in the hunt today is Brock Parker, who has officially secured his third cash of the series. Parker has a 4th place finish under his belt this year, making it to the semi-finals of Event 12: $10,000 Heads-Up No-Limit Hold'em.
Play will begin today with limits at 3,000/6,000 and we will play down to a winner. Stay tuned here on PokerNews as we provide you with all of the latest updates as these ten players attempt to become a WSOP champion.
Final Table Lineup
| | | |
| --- | --- | --- |
| Seat | Player | Chips |
| 1 | Darin Thomas | 155,500 |
| 2 | Preston Derden | 157,500 |
| 3 | Christopher Hartman | 162,500 |
| 4 | Victor Ramdin | 165,500 |
| 5 | Brock Parker | 164,500 |
| 6 | Christopher Vitch | 162,000 |
| 7 | Sean Rice | 160,000 |
| 8 | Brian Meinders | 162,400 |
| 9 | Ian Johns | 159,000 |
| 10 | Matthew Schreiber | 154,500 |
Tags: Victor Ramdin, Brock Parker.
Day 3 started
Posted 2012-06-14 GMT-6
Event 25: $1,500 Limit Hold'em Shootout
Day 3 started