2012 World Series of Poker ›
Event 25: $1,500 Limit Hold'em Shootout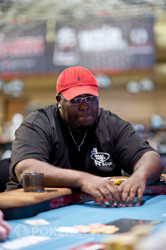 Darin Thomas popped it up from the button and Brian Meinders called. The
flop was spread in front of the two and Meinders led out into Thomas. Thomas called and the two saw the
turn. Once again Meinders fired and was called by Thomas.
Meinders opted to check the
river, causing Thomas to push out one last bet. Meinders called and Thomas tabled
for a diamond flush that was good enough to drag the pot.
Chip Counts
Darin Thomas
450,000
150,000
Tags: Darin Thomas.
Darin Thomas started the heads-up battle strong, managing to take down a few small pots. That continued to be the case until Brian Meinders picked off a couple of hands. The first nice pot that Meinders took down saw him too strong holding
on a
board, with the flush scooping up the pot.
A couple of hands later and Meinders would be taking it down again. This one started when Meinders opened it up from the button. Thomas three-bet and Meinders called as a
flop hit the felt. Thomas led and Meinders called. The
turn would see Thomas check-call a bet from Meinders and Thomas would check again on the river (
). This time when Meinders bet, Thomas would let his hand go, sending the pot to Meinders.
Chip Counts
Brian Meinders
1,350,000
150,000
Darin Thomas
300,000
-140,000
Tags: Brian Meinders, Darin Thomas.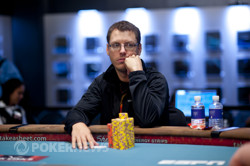 Christopher Vitch opened with a raise from the button and Darin Thomas three-bet from the big blind. Vitch pushed out a four-bet and Thomas raised to put Vitch all in.
Thomas:

Vitch:
The flop came
and Vitch was in need of either a king or a five to stay alive. The deck refused to oblige, however, with the turn coming
and the river
. Vitch will collect $51,861 for his efforts.
Chip Counts
Darin Thomas
440,000
85,000
Christopher Vitch
Busted
Tags: Christopher Vitch, Darin Thomas.
Christopher Vitch has played a couple of pots here after the break and lost both of them to take a fair chunk out of his stack. A recent hand saw Brian Meinders open the button and Vitch call out the of the big blind. The two players then checked on the flop and turn of a
board. On the river, Meinders fired out a bet and Vitch thought long and hard before opting to let his hand go. Vitch now has less than 100,000 chips
Chip Counts
Christopher Vitch
80,000
-275,000
Tags: Christopher Vitch, Brian Meinders.
The three players are back from their dinner break and ready to play down to a winner.
The buy-ins for several major PokerStars tournaments are being cut in half on Sunday, June 17 for Half Price Sunday, including the most affordable Sunday Million that PokerStars has ever run. The huge prize pool guarantees stay fixed, so you get to play for a share of millions in cash prizes for less than ever before!
We have 10 tickets to give away for the Sunday Million in the following tournament:
Tourney ID #573942652 (Live now)
Name: PokerNews - Half Price Sunday Million
Date: June 16
Time: 14:00 ET
Buy-In: $3 + .30
Password: StarsHPSM
Prizes: 10 Bonus Half Price Sunday Million tickets (for June 17 only) will be awarded to the top 10 finishers on top of the cash payout.
All players are eligible who pay the buy-in fee and register with the password, which will be distributed in PokerNews editorials and the live reporting pages.
Tags: PokerStars Half Price Sunday.
Players are now on a 60-minute dinner break. The final three will return in an hour to duke it out for a World Series of Poker bracelet.