2012 World Series of Poker ›
Event 31: $1,500 No-Limit Hold'em
Chip Counts
Tom Chambers
3,460,000
Cherish Andrews
2,520,000
-70,000
Joe Cada
US
1,985,000
135,000
Carter Phillips
1,920,000
140,000
Michael Aron
1,085,000
-5,000
Maximilian Lehmanski
DE
825,000
Najib Kamand
770,000
-140,000
Players are now on a 60-minute dinner break.
Maximilian Lehmanski limped in from early position and it folded all the way to Tom Chambers who checked his option from the big blind.
The flop brought the
and Chambers fired out 100,000. Lehmanski pushed out 200,000 total and Chambers called.
Fourth street was the
and Chambers bet 350,000. Lehmanski thought for a moment before moving calling chips into the middle. The board completed with the
and Chambers moved a large bet of 750,000 into the center of the table. Lehmanski called and Chambers showed
for a flush. Lehmanski mucked his cards and Chambers was able to surpass Cherish Andrews as the tournament chip leader.
Chip Counts
Tom Chambers
3,460,000
1,390,000
Maximilian Lehmanski
DE
825,000
-825,000
Tags: Maximilian Lehmanski, Tom Chambers.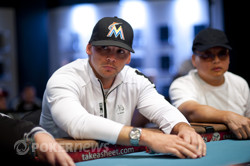 Joe Cada opened to 100,000 from the cutoff and Jonathan Poche responded by announcing all in from the button. It folded back to Cada who thought for a few seconds before calling. Cada showed
and was relieved to find out he was ahead against Poche's
.
The flop was
and Cada retained his lead and had gained hearts to make the flush as well. The turn was the
and the river brought the
, completing Cada's heart flush and sending Poche off of the Pavilion stage.
Chip Counts
Joe Cada
US
1,850,000
930,000
Jonathan Poche
Busted
Tags: Joe Cada, Jonathan Poche.
It folded to Carter Phillips in the small blind who completed and Michael Aron checked his option from the big.
was the flop and both players checked. On the
turn Phillips tossed out 55,000. Aron called and the river was the
. Both players checked once again and Phillips showed
for aces and treys. Aron mucked and Phillips took the pot.
Chip Counts
Carter Phillips
1,780,000
270,000
Michael Aron
1,300,000
-120,000
Tags: Carter Phillips, Michael Aron.
Since winning the large hand off of Huy Quach, Cherish Andrews has been opening pots more frequently and has now expanded her chip lead by increasing her stack to 2,800,000.
Chip Counts
Cherish Andrews
2,800,000
340,000
Tags: Cherish Andrews.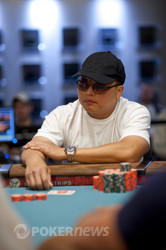 Huy Quach was forced all in with the ante after losing the previous hand to Cherish Andrews. Jonathan Poche called on the button and Maximilian Lehmanski checked his option in the big blind.
The flop was
and Lehmanski checked to Poche who bet 80,000. Lehmanski folded and the hands were tabled:
Poche:

Quach:
Poche flopped two pair and Quach did not improve on the turn and the river. Quach will collect $49,333 for his ninth place finish.
Chip Counts
Jonathan Poche
930,000
270,000
Huy Quach
Busted
Tags: Huy Quach, Jonathan Poche.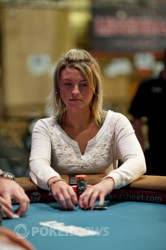 Cherish Andrews raised to 105,000 from early position only to have Huy Quach move all in on her from the big blind. Andrews called and Quach had her covered by a single orange t5,000 chip.
Andrews:

Quach:
Andrews' large rail erupted into screams of excitement when the flop came
, giving Andrews a set of jacks. Andrews filled up on the
turn and the board finished with the
.
This pot left Quach forced to be all in on the next hand.
Chip Counts
Cherish Andrews
2,460,000
1,080,000
Huy Quach
5,000
-1,225,000
Tags: Cherish Andrews, Huy Quach.
Maximilian Lehmanski made it 100,000 before the flop only to have Carter Phillips three-bet to 210,000. It back to Lehmanski who four-bet to 390,000. Lehmanski tanked before throwing away his cards.
Lehmanski showed the
and dragged the pot.
Chip Counts
Maximilian Lehmanski
DE
1,650,000
250,000
Carter Phillips
1,510,000
-390,000
Tags: Maximilian Lehmanski, Carter Phillips.
Chip Counts
Tom Chambers
2,300,000
-100,000
Carter Phillips
1,900,000
35,000
Michael Aron
1,420,000
-150,000
Maximilian Lehmanski
DE
1,400,000
-120,000
Cherish Andrews
1,380,000
350,000
Najib Kamand
1,350,000
-60,000
Huy Quach
1,230,000
-170,000
Joe Cada
US
920,000
55,000
Jonathan Poche
660,000
-145,000