Day 2 completed
Posted 2012-06-18 GMT-6
Event 31: $1,500 No-Limit Hold'em
Day 2 completed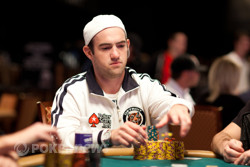 Less than 48 hours ago, 2,811 different people took their seats in various rooms at the Rio with the dream of being the next World Series of Poker champion. Now, after two days and 21 grueling levels of play, only 19 remain. Leading the field is none other than 2009 Main Event champion Joe Cada who is holding on to a stack of 1,869,000.
Today's play saw 331 runners return to the felt and 297 of those made the money. Among those to grab on to a cash and bust before play ended today are Eric Baldwin, Lauren Kling, Nick Binger, Mohsin Charania, Angel Guillen, Ted Forrest, Erika Moutinho, James Akenhead, Soi Nguyen, and PokerNews' own Chad Holloway.
For those unfamiliar with chip leader Joe Cada, back in 2009 he bested a field of 6,494 players and defeated Darvin Moon heads up to win $8,547,042 in prize money at the 2009 WSOP Main Event. This event is Cada's second cash at the 2012 WSOP with his first of the year coming in Event #14: $1,500 No-Limit Hold'em Shootout.
No Main Event champion since Carlos Mortensen in 2001 has been able to win a second WSOP bracelet to go along with their Main Event title. If Cada can best the remaining players tomorrow he will become the first Main Event winner of the past decade to put a second bracelet on his wrist.
Hot on Cada's heels is Michael Aron with 1,745,000. Rounding out the top three is Valentyn Shabelnyk who is sitting on 1,391,000 in chips.
Other notable names among the final 19 that are returning tomorrow are Day 1 chip leader Cherish Andrews (1,383,000), Carter Phillips (586,000), Jonathan Poche (491,000), JC Tran (339,000), Dwyte Pilgrim (293,000).
Play will resume at 1:00 PM tomorrow in the Amazon Room where the final 19 players will battle on the felt for the next WSOP gold bracelet and $664,130 in first place money. Join us as we provide all of the latest updates from the tournament floor!
Tags: Joe Cada.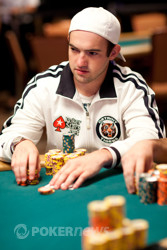 ...yelled Joe Cada's rail.
A monster pot in the last three hands of the evening has propelled Cada to the top of the counts.
From the small blind, Manig Loeser raised 30,000 and Joe Cada re-popped it to 77,000 from the big blind. Loeser four-bet to 177,000, but Cada had other ideas. He five-bet jammed with the bigger stack.
Loeser called all in immediately for about 750,000 with
and held a big lead on Cada's
. However, the board rolled out
as Cada spiked the ace on the flop to not only eliminate Loeser, but take the chip lead in the process.
Chip Counts
Joe Cada
US
1,869,000
969,000
Manig Loeser
Busted
Tags: Joe Cada, Manig Loeser.
Tournament staff has announced three more hands before bagging and tagging for the evening.
Alvaro Santamaria moved all in preflop and was called by Carter Phillips. Santamaria tabled
but was behind the
of Phillips.
The board fell
and Santamaria was sent packing.
Chip Counts
Carter Phillips
545,000
215,000
Alvaro Santamaria
Busted
Tags: Alvaro Santamaria, Carter Phillips.
Tom Chambers opened to 30,000 under the gun and Baret Grigorian moved all in for 126,000 from the next seat. Adam Kornuth re-raised all in from the cutoff, successfully isolating the pot.
Kornuth:

Grigorian:
The flop and turn fell
.
"Stay low," said Grigorian.
River:
Kornuth spiked the river to score the elimination.
Chip Counts
Adam Kornuth
890,000
60,000
Baret Grigorian
Busted
Tags: Adam Kornuth, Baret Grigorian.
Maxim Sorokin was all in for roughly 280,000 with
against Cherish Andrews'
.
The board fell
to give Andrews a pair of queens to score the elimination.
Chip Counts
Cherish Andrews
1,490,000
155,000
Maxim Sorokin
Busted
Tags: Cherish Andrews, Maxim Sorokin.
A series of raises preflop led to Vincent Lucardie all in for about 300,000 with pocket tens against Joe Cada's
. Lucardie found no help from the board and was sent to the rail.
Chip Counts
Joe Cada
US
900,000
330,000
Vincent Lucardie
Busted
Tags: Vincent Lucardie, Joe Cada.