2012 World Series of Poker ›
Event 34: $5,000 Pot-Limit Omaha - Six-Handed
Day 2 completed
Posted 2012-06-20 GMT-6
Event 34: $5,000 Pot-Limit Omaha - Six-Handed
Day 2 completed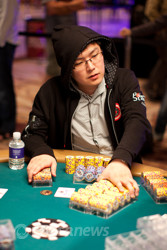 The World Series of Poker Event 34: $5,000 Pot-Limit Omaha - Six-Handed came back today with 72 players all with two aims: to get in the money, and then go on and make a final table. We got to, and burst the bubble, but fell a little short of making the final table.
After 10 levels of play the field was whittled all the way down to 11 players. The player who tops the lot is runaway chip leader from Japan, Naoya Kihara with 1,548,000 chips. He had an incredible day where he busted player after player with huge hands that held, or draws that got there. When there were 24 players left he had more chips than the average player will take forward to tomorrow's six-handed final table. Did anyone tell him this is a three-day tournament? He ended with around a quarter of the chips in play!
The field was stacked today, and will continue to be so tomorrow. Remember the name Hans Winzeler from last summer? He came second to Jason Mercier in this very tournament, earning $383,075. He's in a great position to do a repeat, he'll be hoping for one better though.
Here's how the final 11 and their chip counts look heading to tomorrow:
| Place | Player | Chips |
| --- | --- | --- |
| 1 | Naoya Kihara | 1,548,000 |
| 2 | Tommy Le | 965,000 |
| 3 | Davidi Kitai | 789,000 |
| 4 | Hans Winzeler | 613,000 |
| 5 | Chris De Maci | 515,000 |
| 6 | Dimitar Danchev | 469,000 |
| 7 | Jason DeWitt | 465,000 |
| 8 | Scott Bohlman | 397,000 |
| 9 | Daniel Hindin | 211,000 |
| 10 | Kevin MacPhee | 174,000 |
| 11 | Joseph Cheong | 125,000 |
Erick Lindgren was the unlucky bubble boy today after a strange hand versus Daniel Hindin. Check out Lee Davy's version of events from earlier by clicking here. Other players who came back for day 2 but failed to cash included: Mike Sexton, Fabrice Soulier, Bruno Fitoussi, Antony Lellouche, and JC Tran.
Those happier to cash, although wishing they were still in included: David Benyamine, Brock Parker, Padraig Parkinson, Dermot Blain, Shaun Deeb, Tom Marchese, and Adam Junglen. For a full list of payouts click here.
Play resumes at 1:00 PM local time tomorrow. When seven players remain they will all be redrawn onto one table until one more player busts. From there the official WSOP final table begins. All the action will be covered right here on PokerNews, and streamed on WSOP.com
Tags: Naoya Kihara.
Each table will play four more hands before play ends for the night.
Kevin MacPhee was the short stack, but not anymore.
Daniel Hindin opened to 20,000 and was called by MacPhee in the small blind before Joesph Cheong three-bet to 80,000 in the big blind. Hindin folded and MacPhee called whilst saying, "Let's gamble it up."
The flop fell
and MacPhee moved in blind for his final 37,000. Call.
MacPhee:
for a gutshot and flush draw.
Cheong:
.
The board ran out
to make MacPhee a full house.
Chip Counts
Kevin MacPhee
274,000
139,000
Joseph Cheong
160,000
-175,000
Tags: Joseph Cheong, Kevin Macphee.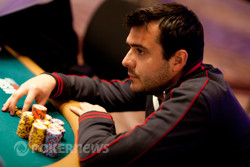 Dimitar Danchev and Kevin MacPhee have both got it in on the flop with Danchev at risk of elimination.
Flop:
The turn was the
giving Danchev two-pair before the
on the river improved his hand to a straight. Danchev was up to 521,000 and MacPhee was down to 135,000.
Chip Counts
Dimitar Danchev
521,000
291,000
Kevin MacPhee
135,000
-225,000
Tags: Dimitar Danchev, Kevin MacPhee.
Stop Press! We just witnessed Naoya Kihara lose a pot! We caught the action on the turn and the board was showing
. Kihara checked, Winzeler bet 28,000 and Kihara called. The river card was the
and Kihara check-called a 65,000 Winzeler bet. Winzeler turned over
for the nut flush and Kihara mucked his hand.
Chip Counts
Naoya Kihara
1,375,000
-232,000
Hans Winzeler
825,000
365,000
Tags: Hans Winzeler, Naoya Kihara.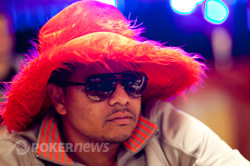 We have lost the flowing red-feathered hat of Sebastian Bastian.
Bastian must have lost a pot beyond our eyesight because when he raised to 34,000 in first position he was extremely short. The action folded around to Kevin MacPhee in the big blind and he made the call. The flop was
, MacPhee put Bastian all-in and he called.
So Bastian was ahead with the over pair, but MacPhee had his drawing outs and the
was exactly what MacPhee ordered. The
bricking for Bastian and he was out.
Chip Counts
Kevin MacPhee
360,000
70,000
Sebastian Bastian
Busted
Tags: Kevin MacPhee, Sebastian Bastian.
Oh my! The beauty and the pain of Pot-Limit Omaha!
It was not that long ago that David Colin doubled up through David Benyamine to move into 2nd spot. With 13 players remaining you could forgive the young Frenchman for having a thought or two about World Series gold. Then before you could say P.L.O he was gone!
He lost back-to-back pots against Jason DeWitt before getting embroiled in a pot against our chip leader Naoya Kihara. Kihara told us that Colin check-raised the flop and moved all-in on the turn on a board showing
and Kihara made the call.
Kihara with two-pair versus the draws of Colin. everybody waiting with baited breath for the river card and it was the
giving Colin his straight…but also handing Kihara a winning flush.
Chip Counts
Naoya Kihara
1,607,000
272,000
David Colin
Busted
Tags: David Colin, Naoya Kihara.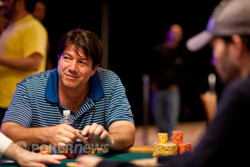 The overnight chip leader, and World Series of Bracelet holder, David Benyamine, is out of this competition; and of course it was Naoya Kihara who brought down the guillotine.
Kihara raised to 18,000 on the button, Benyamine three-bet to 62,000 from the small blind and the fearless Kihara called.
Flop:
Benyamine moved all-in for 125,000 and Kihara made the call.
Kihara held a pair of threes and Benyamine a pair of kings.
Turn:
Kihara made two-pair and Benyamine was gutted. The river
sealing the deal and the Frenchman was out in 14th place. Kihara moved upwards and onwards with 1,335,000.
Chip Counts
Naoya Kihara
1,335,000
135,000
David Benyamine
Busted
Tags: David Benyamine, Naoya Kihara.