2012 World Series of Poker ›
Event 35: $2,500 Mixed Hold'em
Limit Hold'em
Samuel Golbuff check-called a bet on the
board before checking in the dark before the dealer dealt the river. The river was the
and Tryba checked behind.
Golbuff showed the
for a pair of nines, but was bested by the
for Tryba and he won the pot.
Chip Counts
Chris Tryba
610,000
140,000
Samuel Golbuff
96,000
69,000
Tags: Samuel Golbuff, Chris Tryba.
Limit Hold'em
Samuel Golbuff made it two bets from the button and Salman Behbehani three-bet from the big blind. Golbuff flatted to see a flop, which came
.
Golbuff proceeded to call a bet from Behbehani on the flop,
turn and
river. Behbehani flipped over
for aces and fives. Golbuff couldn't beat it and mucked his hand without showing.
Behbehani is our new chip-leader with 850,000, while Golbuff has slipped to 270,000.
Chip Counts
Salman Behbehani
850,000
221,000
Samuel Golbuff
270,000
-80,000
Tags: Salman Behbehani, Samuel Golbuff.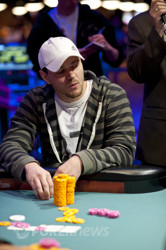 No-Limit Hold'em
From early position, Samuel Golbuff raised to 25,000 and then Brent Wheeler tank-shoved from the hijack seat for 161,000. Action folded back to Golbuff and he requested a count. Golbuff had 155,000 behind, which meant he had Wheeler covered by a little bit. Eventually, Golbuff called.
Wheeler held the
and was in dominating shape to double up with the
for Golbuff.
The flop and turn kept Wheeler in front with the
falling, but the
on the river smacked Golbuff with the winner and sent Wheeler to the rail.
Chip Counts
Samuel Golbuff
350,000
170,000
Brent Wheeler
Busted
Tags: Brent Wheeler, Samuel Golbuff.
No-Limit Hold'em
From under the gun, Michael Gathy raised to 25,000 and Erik Cajelais called from the hijack seat. Everyone else folded and the flop came down
. Gathy bet 28,000 and Cajelais folded.
On the next hand, Joep van den Bijgaart raised to 25,000 from under the gun and Michael Gathy called from the big blind. The flop came down
and both players checked.
On the
turn, Gathy led for 32,000 and van den Bijgaart called.
The river was the
and Gathy bet 72,000. Van den Bijgaart folded and Gathy won the pot.
No-Limit Hold'em
Erik Cajelais min-raised to 24,000 from under-the-gun and action folded over to Chris Tryba in the cutoff, who three-bet to 58,000. It was folded to Michael Gathy in the small blind, who, after some deliberation, four-bet to 116,000. Cajelais quickly folded and action was back on Tryba, who moved all-in for 324,000. Gathy tanked, but eventually flicked his cards into the muck one-by-one and Tryba scooped the sizable pot.
Tryba is up to 470,000 following the hand while Gathy has slipped to 290,000.
Chip Counts
Chris Tryba
470,000
144,000
Michael Gathy
290,000
-127,000
Tags: Chris Tryba, Michael Gathy.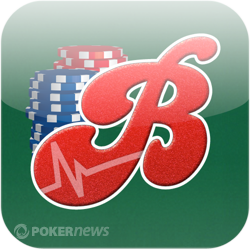 Looking for ways to improve your poker face? With BluffCam, you can now understand how your body acts over the course of a poker game, and get the added edge over your opponents.
The app utilizes proprietary camera technology to measure your heart rate through micro-changes in the color of your skin. The technology is working and players are taking note.
Partnered with some of the top players in the WSOP, BluffCam is dedicated to bringing players of all levels one step closer to the perfect bluff.
Williams Reynolds, professional poker player and winner of the 2010 PCA High Roller event says, "I'm so impressed by how easy to use and accurate BluffCam is. This is super smart technology, and I can now keep my bluff frequency high by keeping my heart rate low with BluffCam!"
BluffCam is the ideal poker companion for anyone looking to stay cool when it counts most. Download it now in the app store!
Tags: BluffCam, Bluffing, iPhone, Poker Face, William Reynolds, WSOP.
Our remaining seven players have returned to their seats and cards are back in the air!
Players are now on their first 20-minute break of the day.