2012 World Series of Poker ›
Event 35: $2,500 Mixed Hold'em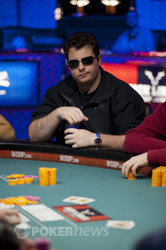 No-Limit Hold'em
On the first hand of the final table, Chris Tryba had the button and Erik Cajelais opened with a raise to 16,000 from middle position. Everyone folded and Cajelais won the pot.
On the next hand, Cajelais opened again to 16,000, this time from the under-the-gun-plus-one position. Action folded to Tryba in the cutoff seat and he flat-called. In the small blind, Michael Foti reraised all in for 95,000 total. Cajelais reshoved and Tryba folded.
Cajelais showed the
and was dominating the
for the at-risk Foti.
The board came down
and Foti was eliminated in ninth place. He earned $16,692 for his finish.
Chip Counts
Erik Cajelais
515,000
147,000
Michael Foti
Busted
Tags: Chris Tryba, Erik Cajelais, Michael Foti.
Introductions took a bit longer than expected, but cards are now in the air!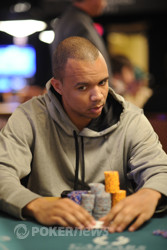 Good afternoon and welcome back to Event 35: $2,500 Mixed Hold'em! Two days ago, 393 hopefuls registered in hopes of proving their Texas Hold'em prowess and claiming a World Series of Poker gold bracelet. Today, only nine players remain in a final table that will surely be watched closely by the poker world.
Best positioned to take down the final table going into Day 3 is chip-leader Joep van den Bijgaart with 605,000. However, all eyes are sure to be on Phil Ivey (169,000), who will competing in his fifth final table at this year's WSOP alone. Ivey's motivation to finally take down an event this year will surely be higher than ever considering how many times he was just an arm's-length away from victory.
Similarly impressive is Michael Gathy, who will be coming into today's final table fourth in chips with 418,000. Unlike Ivey, who has had several near-misses this year, Gathy claimed a WSOP bracelet just one week ago in Event 21: $1,000 No-Limit Hold'em.
Here are the final table specifics:
| Seat | Player | Chips |
| --- | --- | --- |
| 1 | Chris Tryba | 347,000 |
| 2 | Salman Behbehani | 253,000 |
| 3 | Michael Foti | 105,000 |
| 4 | Michael Gathy | 418,000 |
| 5 | Joep van den Bijgaart | 605,000 |
| 6 | Erik Cajelais | 368,000 |
| 7 | Phil Ivey | 169,000 |
| 8 | Samuel Golbuff | 526,000 |
| 9 | Brent Wheeler | 158,000 |
There you have it - will Ivey finally claim a bracelet this year? Will Gathy pull off the rare feat of winning multiple bracelets in a single year? Or will Joep van den Bijgaart use his momentum and leverage as chip leader to carry himself to victory?
Play is set to begin at 2:00 PM PST - so please stay tuned right here at PokerNews as the drama unfolds and we crown an eventual champion!
Tags: Joep van den Bijgaart, Phil Ivey.
Day 3 started
Posted 2012-06-20 GMT-6
Event 35: $2,500 Mixed Hold'em
Day 3 started