Day 2 completed
Posted 2012-06-20 GMT-6
Event 35: $2,500 Mixed Hold'em
Day 2 completed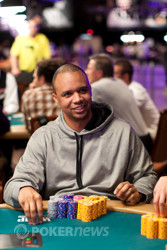 Day 2 of Event 35: $2,500 Mixed Hold'em began with 87 players returning to action and finished with nine remaining. Sitting at the top of the list is Joep van den Bijgaart with 605,000 in chips. He'll hold the lead coming into Wednesday's final table.
Only 45 spots were set to get paid and it didn't take too long to get down to the bubble with 46 players left. The bubble, though, lasted roughly an hour and a half before Dario Sammartino finally went out at the hands of Michael Malm. Malm came from behind with tens versus jacks to bust Sammartino and send everyone into the money.
Of those who finished the day with a cash were Dan Harrington, Gabriel Nassif, Randy Lew, David Williams and start-of-the-day chip leader Andre Akkari.
Akkari went out in 15th place when he three-bet shoved with the
, but Erik Cajelais had raised with the
and made the quick and easy call. The kings held for Cajelais and he sent the Brazilian bracelet winner out the door.
Another notable to fall was James Dempsey and he went out in 11th place. Salman Behbehani got the last of his chips when his
defeated Dempsey's
.
The last player eliminated on the day was Jeremy Ausmus in 10th place just before the players were getting ready to bag and tag. Ausmus lost a big pot to cripple him against Samuel Golbuff's trip kings and then he went out right after that thanks to Chris Tryba. That officially set the final table and here's how it will look.
Final Table Seating Assignments
| Seat | Player | Chips |
| --- | --- | --- |
| 1 | Chris Tryba | 347,000 |
| 2 | Salman Behbehani | 253,000 |
| 3 | Michael Foti | 105,000 |
| 4 | Michael Gathy | 418,000 |
| 5 | Joep van den Bijgaart | 605,000 |
| 6 | Erik Cajelais | 368,000 |
| 7 | Phil Ivey | 169,000 |
| 8 | Samuel Golbuff | 526,000 |
| 9 | Brent Wheeler | 158,000 |
Among those at the final table, Michael Gathy will be looking for his second gold bracelet of the 2012 World Series of Poker having won Event 21: $1,000 No-Limit Hold'em. Even though Gathy's accomplishment and quest is amazing, Phil Ivey is stealing the headlines by making a fifth final table at this WSOP alone.
Just Monday night, Ivey was locking horns with some of the toughest competition in poker in Event 32: $10,000 H.O.R.S.E. before getting a late start in this event. He ran his stack up and put himself in a good spot to make a run on Day 2. That's just what he did and has once again maneuvered his way to a final table.
Ivey will enter the final table with 169,000 in chips and that's good for seventh place overall. Even despite not having a large stack, everyone knows Ivey is the biggest threat at the table. He's dying to finally win a bracelet this year and the motivation is higher than ever, setting up for a great show in the finale.
The final day of action will commence on Wednesday at 2:00 PM and you can be certain you'll fine all of the live coverage right here on PokerNews. Until then, goodnight from Las Vegas!
Tags: Phil Ivey.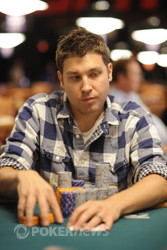 Limit Hold'em
Jeremy Ausmus raised from middle position and Samuel Golbuff called from the big blind to take the
flop. Golbuff checked and Ausmus bet. Golbuff check-raised and Ausmus called.
On the
turn, Golbuff led with a bet and Ausmus called to see the
land on the river. Golbuff bet and Ausmus called.
Golbuff tabled the
for trip kings and Ausmus mucked his hand, dropping all the way to about 20,000 in chips.
Shortly thereafter, Ausmus raised all in from under the gun for 20,000. Eirk Cajelais called from middle position, Chris Tryba called from the small blind and Salman Behbehani called from the big blind.
The flop came down
and the three active players in the hand checked to see the
land on the turn. Again they checked and the
fell on the river.
Tryba tabled the
for a king kicker with the two pair of aces and nines on board. Cajelais and Behbehani mucked and Ausmus showed the
. Ausmus' queen kicker wasn't good against Tryba and he was eliminated in 10th place, officially setting the final table and ending the night.
Chip Counts
Jeremy Ausmus
Busted
Tags: Chris Tryba, Erik Cajelais, Jeremy Ausmus, Salman Behbehani, Samuel Golbuff.
The players have been informed that they will now play four more hands.
Limit Hold'em
Action folded to Chris Tryba on the button and he raised. Jeremy Ausmus called from the big blind and then check-raised on the
flop. Tryba called.
Ausmus led on the
turn and Tryba called. Then on the
river card, Ausmus checked and Tryba bet. Ausmus tanked for a bit and then called.
Tryba rollded over the
in his hand for two pair, aces and nines. Ausmus mucked.
"Just two birds!" yelled out Ronnie Bardah from the rail as he was watching on and supporting Tryba.
Tryba raked in the pot and moved up to 365,000 in chips thanks to those "two birds."
Chip Counts
Chris Tryba
365,000
130,000
Jeremy Ausmus
120,000
-125,000
Tags: Chris Tryba, Jeremy Ausmus, Ronnie Bardah.
"Hey Phil!" yelled Brian Hastings from the rail. "I just got busted out by two pair in Razz," he continued. Phil Ivey just looked at him with a slight smile, but didn't say anything as Hastings went on to tell his bad beat story.
Hastings spoke for about 30 seconds about the hand and the tournament while Ivey just kind of stared at him. At the end of the story, all Ivey could offer was, "Bad beat," before Hastings finally left the rail and headed out the door.
Tags: Brian Hastings, Phil Ivey.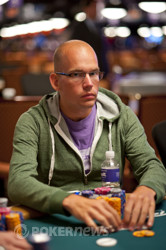 No-Limit Hold'em
From the button, James Dempsey raised all in for 116,000. Salman Behbehani called from the big blind and tabled the
. Dempsey held the
and was very much dominated.
The flop, turn and river ran out
to give Behbehani a full house and send Dempsey out the door in 11th place.
Chip Counts
Salman Behbehani
306,000
181,000
James Dempsey
Busted
Tags: James Dempsey, Salman Behbehani.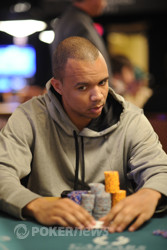 No-Limit Hold'em
On the button, Phil Ivey raised to 13,000. Jeremy Ausmus called from the big blind and the flop came down
. Both players checked and the turn brought the
. Ausmus checked and Ivey bet 15,000. Ausmus made the call.
The river was the
and paired the board. Ausmus and Ivey both checked. Ivey showed the
and Ausmus mucked his hand.
Chip Counts
Jeremy Ausmus
166,000
-14,000
Phil Ivey
140,000
-47,500
Tags: Jeremy Ausmus, Phil Ivey.