2012 World Series of Poker ›
Event 38: $1,500 No-Limit Hold'em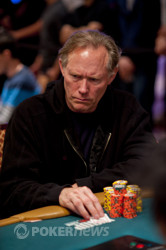 We have just lost our first player since getting back from the break. It is Ricky Crandell who find himself on the rail just shy of a final table.
Crandell's final hand of the day saw him all-in holding
against David Pham's
. The
board saw Pham's hand stay in front as Crandell made hi way to the exit with $34,927 for his time.
Chip Counts
David Pham
1,750,000
Ricky Crandell
Busted
Tags: David Pham, Ricky Crandell.
Ricky Crandell and Blair Hinkle have both simultaneously open shoved their stacks on their corresponding tables. No player wanted to rumble though as they both took down the blinds and antes.
When we arrived at the table there was a
flop showing and David Pham was busy leading out with a bet of 125,000 into Tyler Patterson. A call and both players would check the
turn. On the
river, Pham again led, this time for 235,000. Patterson made the call, then sent his cards into the muck when Pham tabled
.
Chip Counts
David Pham
1,500,000
510,000
Tyler Patterson
450,000
-530,000
Tags: Tyler Patterson, David Pham.
Theo Tran has yet again raked in a handy little pot. This time we arrived at the table with a
board showing and Tran checking to Bahman Jahanguiri, who bet 130,000. Tran made the call and the two players turned their hands over.
Tran's kicker managed to hold up as he took down the pot.
Chip Counts
Theo Tran
1,300,000
285,000
Bahman Jahanguiri
850,000
-300,000
Tags: Theo Tran, Bahman Jahanguiri.
Dung Nguyen has been doing very well of late, managing to eliminate Miguel Proulx just prior to the break and now he has taken down even more chips.
Nguyen, Kristijonas Andrulis and Blair Hinkle all took to a
flop. Nguyen checked, as did Andrulis and then Hinkle bet 88,000. Nguyen called and Andrulis got out of the way as a
hit turn. Both players checked here and a
was the last card dealt on the board. Nguyen opted to again check here and then called the bet of 115,000 from Hinkle.
When Hinkle tabled his
, they went into the muck as Nguyen turned over
.
Chip Counts
Dung Nguyen
1,500,000
950,000
Blair Hinkle
500,000
-375,000
Tags: Blair Hinkle, Dung Nguyen.
The 12 remaining players have returned from the break and are ready to play some more poker.
The remaining players have been sent on their first 20-minute break of day.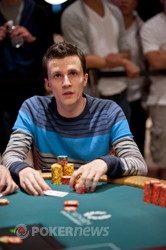 Miguel Proulx was eliminated on the last hand before the break. It was Proulx's
versus Dung Nguyen's
and Proulx wasn't able to improve as he was sent home in 13th place.
Chip Counts
Miguel Proulx
Busted
Tags: Miguel Proulx.