2012 World Series of Poker ›
Event 38: $1,500 No-Limit Hold'em
Folded to Scott Clements on the button, he shoved all in for his stack of around 282,000. Ricky Crandell called all-in for 162,000 and the two players turned their hands over.
The
board gave both players trips, but Crandell's kicker managed to help him rake in the pot and leave a dent in Crandell's stack.
Chip Counts
Ricky Crandell
345,000
80,000
Scott Clements
120,000
-235,000
Tags: Scott Clements, Ricky Crandell.
Tyler Patterson opened up the pot to 45,000 from under the gun. Theo Tran made the call in the cutoff and a
flop was spread on the felt. Patterson led for 55,000 here and Tran made the call. The
turn would see both players check and the
complete the board on the river. This time Patterson bet 125,000 and then tabled his
when Tran made the call. Patterson's flush was enough to take down the pot and add to his stack.
Tags: Tyler Patterson, Theo Tran.
Miguel Proulx has just managed to double up against Dung Nguyen. Proulx managed to wake up with
on the button and shoved all in. Nguyen made the call in the small blind holding
. The
was a safe one for Proulx and he raked in his new chips.
Chip Counts
Dung Nguyen
550,000
-110,000
Miguel Proulx
440,000
210,000
Tags: Miguel Proulx, Dung Nguyen.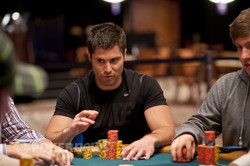 Two-time World Series of Poker gold bracelet winner and arguably the best tournament Pot Limit Omaha player in the world, Scott Clements, has just been moved to Table 445. When he arrived, Theo Tran greeted him like so.
"How does it feel to know your the best player at the table, and you have the biggest arms at the table?
Enough said.
Tags: Scott Clements, Theo Tran.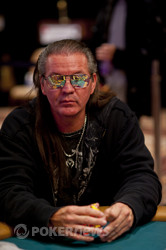 Marcus Gurley shoved his short stack all-in preflop holding
and unfortunately ran into the
that David Pham held.
Gurley would need plenty of help to survive, but the
board didn't do it for him as Gurley was sent home in 14th Place. And then there were 13.
Chip Counts
David Pham
1,300,000
200,000
Marcus Gurley
Busted
Tags: Marcus Gurley, David Pham.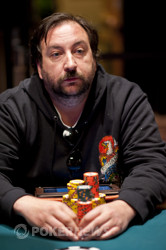 Just a short while after Mihails Morozovs was left crippled against Theo Tran, he has been eliminated by none other than Tran himself.
The last hand of Morozovs tournament began when Tran opened from the cutoff. Morozovs then three-bet shoved from the small blind and Tran quickly called. Morozovs'
was in need of some help against Tran's
and it was help that woul;d never come as the
board sent the pot to Tran.
For that effort, Morozovs goes home with $27,367, while Tran is back to a very healthy stack.
Chip Counts
Theo Tran
840,000
290,000
Mihails Morozovs
Busted
Tags: Theo Tran, Mihails Morozovs.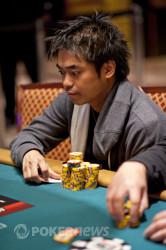 Theo Tran has managed to win a fair chunk of his chip stack back after losing the majority of his chips just a short while ago. The hand in question saw Tran shove for 247,000 on the button. Mihails Morozovs called with
in the big blind and by the time the
board had run out, Tran was back in the mix.
Chip Counts
Theo Tran
550,000
310,000
Mihails Morozovs
190,000
-420,000
Tags: Mihails Morozovs, Theo Tran.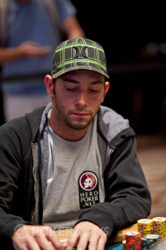 Blake Cahail is the latest player to be eliminated from this tournament. Cahail's last hand saw his short stack all-in holding
against Tyler Patterson's
. Cahail was on the button in the hand in question and Patterson in the big blind.
When the
, Patterson's hand was good enough to rake in the pot and send Cahail out the door in 16th place.
Chip Counts
Blake Cahail
Busted
Tags: Blake Cahail, Tyler Patterson.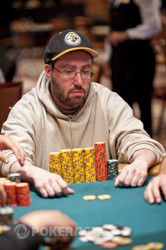 Michael Borovetz has just been eliminated in 17th place. His last hand saw him all-in holding
against the
of Zachary Korik.
A
board did no favors for Borovetz as he was sent to the rail with $21,689 for his time.
Chip Counts
Michael Borovetz
Busted
Tags: Michael Borovetz, Zachary Korik.
The hand in which Zachary Korik doubled up started when Dung Nguyen opened the pot to 43,000. Korik then three-bet shoved for 366,000 and Nguyen called.
Nguyen: [3c3h
Korik:
The
board ran out and the pot was sent to Korik.
Chip Counts
Zachary Korik
US
740,000
340,000
Dung Nguyen
660,000
195,000
Tags: Zachary Korik, Dung Nguyen.