2012 World Series of Poker ›
Event 38: $1,500 No-Limit Hold'em
Day 1 completed
Posted 2012-06-21 GMT-6
Event 38: $1,500 No-Limit Hold'em
Day 1 completed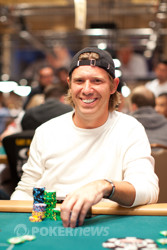 That's all folks! Day 1 of Event 38: $1,500 No-Limit Hold'em has come to a close, with Layne Flack emerging as the far and away chip leader.
No stack came even close to the huge 229,700 in chips that Flack managed to accumulate. Flack will start tomorrow with a good chance of making a run at posting another final table result after finishing 4th in Event #14: $1,500 No-Limit Hold'em Shootout.
It all started more than twelve hours ago when 2,534 players all had stars in their eyes and a dream in their heart. Those dreams were soon crushed for the majority though as only 277 were able to survive with a chance to chase the $607,200 first-place prize. Of the 277 returning players, 270 will go home with a min-cash, while seven will go home empty handed.
Some of the players who began the day, but were unable to survive include Jonathan Little, Randy Lew, Ben Yu, JJ Liu, George Lind, John Racener and Jonathan Duhamel. It was an unfortunate day for Lex Veldhuis as a brutal hand began his downfall to see him join those players on the rail.
Also finding the exit were the likes of Phil Hellmuth and Phil Ivey. The end of Hellmuth's day saw him unable to compete with
on a board that housed a queen on the river. Ivey was the victim of aces, with his
running into the
of Scott Vener.
Daniel Negreanu was another player who couldn't make it through the night, with the turning point of his tournament perhaps coming when his pocket-sixes couldn't hold against the eight-high of an all-in opponent.
Some of the players who managed to do what Ivey, Hellmuth and Negreanu could not were Dan Smith, Jim Collopy and Tommy Vedes. All of these players managed to accumulate very healthy chip stacks and will be ones to watch come tomorrow. Another one to watch will be Lauren Kling as she amassed a very impressive 123,300 in chips. Kling is chasing her first bracelet and will surely give it a fair crack, so watch this space.
The Day 2 action is set to begin at 1:00 PM tomorrow, so be sure to return as PokerNews will again be on the floor providing all the live coverage from Event 38 of the 2012 World Series of Poker.
Tags: Layne Flack.
Here are some official end-of-day counts. As you can see, it Layne Flack who easily managed to amass the largest chip stack. A full chip count list will be posted once provided.
Chip Counts
Layne Flack
229,700
104,700
Lauren Kling
123,300
15,300
Alex Phahurat
122,800
-41,200
Jim Collopy
109,100
49,100
Dan Smith
94,400
6,400
Will Jones
90,500
-500
David Pham
74,500
24,500
Tommy Vedes
71,100
19,100
Scott Clements
54,800
9,800
Ari Engel
48,900
-31,100
Richard Toth
44,400
23,400
Gabriel Nassif
32,900
8,900
Jason Senti
32,000
5,000
Isaac Haxton
20,800
1,300
John Racener has just been seen rushing out of the tournament area and with his seat empty, it's safe to assume he busted very close to the money and very close to the end of the night.
Chip Counts
John Racener
Busted
Tags: John Racener.
The clock has been stopped and it has been announced that there will be three more hands at each table before we bag and tag for the night.
The tournament clock currently tells us that 288 players are remaining. With 270 in the money, we are getting very close to the bubble. However with less than 10 minutes remaining in the day, it is unlikely the money bubble will burst tonight.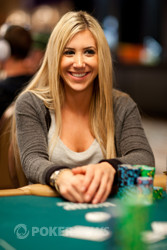 The chip leader board tonight had a very low male to female ratio and so Lauren Kling made sure that changed as she has seen her chip stack increase to over 6-figures during this last level.
Chip Counts
Lauren Kling
108,000
58,000
Tags: Lauren Kling.
We were recently over on Dan Smith's table and watched him take down a small pot when he opened preflop, the big blind called and then frustratingly folded to Smith's continuation-bet on the
flop. While that was only a small amount of chips to add to his stack, Smith has managed to increase stack to almost 90,000 during these late stages of the night.
Chip Counts
Dan Smith
88,000
45,000
Tags: Dan Smith.