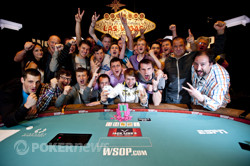 Day 3 of Event 42: $2,500 Omaha/Seven Card Stud Hi-Low 8-or-Better began with 22 players in search of a WSOP gold bracelet and the top prize of $228,014. In the end, only one player could be crowned champion, and his name is Oleksii Kovalchuk.
Jeff Lisandro, who won the 2009 WSOP Player of the Year award, entered the day as the chip leader, and was in search of his sixth career bracelet. He remained among the leaders through Level 20, and by that point, we had already lost Charles Kassin, Anthony Bellino, Allen Bari, Daniel Harmetz, and Dale Phillips. When we entered Level 21, Norman Chad shot up the charts, and took the chip lead. Chad scooped a massive Omaha-8 pot from Tom Schneider, where he made the nut-flush and the nut-low, and Schneider bowed out soon after.
Following Schneider out the door were Bryan Devonshire, Perry Friedman, and then the five-time bracelet winner himself, Lisandro. Lisandro lost a handful of small pots, and then was done in by Mark Gregorich in a hand of Omaha-8. The two got it in on a board of
, and Lisandro was at risk with
. Gregorich had a massive draw with
, and was freerolling for the scoop. The river was the
, giving Gregorich the nut-flush, and eliminating Lisandro from the tournament.
We then moved to the stage in the Pavilion Room, and formed an unofficial final table. Brandon Guss was severly short stacked, and quickly exited.
Here's how the final table looked:
| Seat | Player | Chips |
| --- | --- | --- |
| 1 | Oleksii Kovalchuk | 335,000 |
| 2 | George Danzer | 517,000 |
| 3 | Wing Wong | 184,000 |
| 4 | Daniel Ratigan | 150,000 |
| 5 | Tim Burt | 152,000 |
| 6 | Mark Gregorich | 677,000 |
| 7 | Yuval Bronshtein | 340,000 |
| 8 | Norman Chad | 590,000 |
Danzer scooped two huge Stud-8 pots to rocket into the chip lead, and Chad's stack began slipping. It was Tim Burt who busted first at the official final table though, when Danny Ratigan had a seventy-six low and three hearts in Stud-8. Sixth and seventh street both brought hearts for Ratigan, giving him a flush and eliminating Burt in eighth place. Wing Wong followed him out the door next, busting in an Omaha-8 hand against Danzer.
The remaining six players then went on a dinner break, and when we returned, Chad was the next to go. He was unable to get anything going at the final table, and slid down the counts until he was the shortest stack at the table. He became so desperate, that at one point he tried to use a fortune cookie to help with his decision-making. On his final hand, Chad not only committed the rest of his chips, he reached for his wallet and tossed both his Visa credit card and his AAA card onto the felt. It's a good thing they really weren't at risk, because Gregorich busted him in sixth place.
Yuval Bronshtein was relegated to the short stack when Chad busted. He tried to make a comeback, doubling through Kovalchuk in a hand of Stud-8 right after Chad was eliminated, but he couldn't string together multiple pots. Bronshtein committed the remainder of his chips with a pair of queens in Stud-8, and Ratigan had him at risk with a monster draw. Ratigan made a straight and a low on sixth street, and held as Bronshtein bricked on seventh, eliminating him in fifth place.
Kovalchuk began climbing the charts four-handed, and crossed the million-chip mark after a big Stud-8 pot against Ratigan. He then eliminated Ratigan a few hands later with the wheel, sending Ratigan home in fourth place. Danzer and Kovalchuk began wrestling the lead back and forth three-handed, while Gregorich began to slide. Eventually, Gregorich was quartered by Kovalchuk, and then eliminated.
When heads-up play began, Kovalchuk captained an almost 2:1 chip lead. Danzer quickly evened the match however, and the two began passing the lead back and forth once again. Eventually, Danzer gained a 2:1 advantage for himself, but Kovalchuk came roaring back, winning three of four Omaha-8 pots at the end of Level 27. Kovalchuk never looked back, and on the final hand, the two were all in preflop in Omaha-8.
Kovalchuk's
was a slight favorite over Danzer's
, and the
flop kept him in the lead. The
on the turn left Danzer with just four outs to a straight, and the
bricked on the river. Kovalchuk's supporters mobbed him when it was all over, grabbing him, and tossing him into the air several times.
The 22-year old Ukranian native is now a two-time bracelet winner – he won the $2,500 No-Limit Hold'em Six Handed event last year, earning him $689,739. Congratulations to Kovalchuk on winning number two, and thank you for joining us during these last three days of grueling poker. Be sure to stay tuned to PokerNews.com for all of your up-to-the-minute updates from the 2012 WSOP.
Thank you, and goodnight from Las Vegas!
Tags: Oleksii Kovalchuk.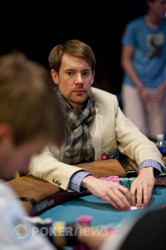 Omaha-8
Danzer battled through the last Stud-8 round gamely, grabbing a few chips back from Okeksii Kovalchuk. But when the game changed back to Omaha-8, two hands swiftly spelled the end of Danzer's Event 42 run.
The first began with a Kovalchuk raise, Danzer three-betting, and Kovalchuk calling. The flop came
. Danzer bet, Kovalchuk raised, and Danzer called. Danzer then check-called both the
turn and
river. Kovalchuk turned over
for nines full of tens, and Danzer mucked, his stack depleted to about 230,000.
Soon after Danzer was raising from the button, Kovalchuk reraising, Danzer putting in four bets, Kovalchuk reraising again, and the German calling with what he had left. The pair both rose from their seats as they turned over their hands.
Danzer:

Kovalchuk:
The flop came
, giving Kovalchuk nines, then the
turn brought him a second pair. Kovalchuk's many supporters were now all standing as well, the noise starting to build in anticipation. No low was possible, and only a ten could snatch the hand away from Kovalchuk to give Danzer a gutshot.
The dealer then burned and turned over the river — the
! The crowd erupted... Kovalchuk had won!
The Ukranian was instantly surrounded by two dozen supporters who soon were lifting him off the ground and tossing him into the air here on the Pavilion stage while Danzer left having come one step shy of the gold.
Tags: George Danzer, Oleksii Kovalchuk.
Omaha-8
George Danzer raised, Oleksii Kovalchuk called, and the flop came
. Kovalchuk checked, Danzer bet, and Kovalchuk called. The turn was the
. Kovalchuk checked again, and when Danzer bet this time Kovalchuk raised, with the German making the call.
The river was the
. Kovalchuk bet, Danzer called, and Kovalchuk showed his
— the nut low and nines and fours — and after lingering a moment Danzer mucked his hand.
Chip Counts
Oleksii Kovalchuk
2,500,000
700,000
George Danzer
440,000
-700,000
Tags: George Danzer, Oleksii Kovalchuk.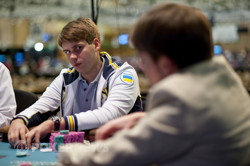 Omaha-8
George Danzer had won a couple of pots to push back in front, then came a hand in which Oleksii Kovalchuk raised from the button, Danzer called, and the flop came
. Danzer checked, Kovalchuk bet, Danzer raised, and Kovalchuk called. The turn was the
, and once more Danzer check-raised Kovalchuk, with the Ukrainian calling again.
The river brought the
and a bet from Kovalchuk, and with a bit of a wary look Danzer called. Kovalchuk quickly turned over
, separating out those two diamonds to show he'd made the nut flush, and Danzer folded.
Chip Counts
Oleksii Kovalchuk
1,800,000
283,000
George Danzer
1,140,000
-290,000
Tags: George Danzer, Oleksii Kovalchuk.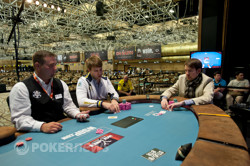 Omaha-8
It appeared at first that once they switched back to Omaha-8, the momentum was going to switch back to Oleksii Kovalchuk, as the Ukrainian grabbed the first three hands — all relatively small pots. But then came a big one that resulted in George Danzer extending his advantage.
The hand began with Kovalchuk raising from the button, Danzer three-betting, and Kovalchuk calling. The flop came
. Danzer bet, and Kovalchuk called. The turn was the
, and Danzer fired again. Kovalchuk responded with a raise this time, and Danzer shot right back with a three-bet which Kovalchuk called.
The river was the
. Danzer bet one more time, and when Kovalchuk called, Danzer quickly tabled his
— the nut flush and a 7-low. Kovalchuk looked back and forth between his hand and Danzer's for a few moments, then mucked.
Chip Counts
George Danzer
2,022,000
355,000
Oleksii Kovalchuk
925,000
-355,000
Tags: George Danzer, Oleksii Kovalchuk.