2012 World Series of Poker ›
Event 43: $1,500 No-Limit Hold'em
With Neil Channing dealing the fatal blow to John Nelson just a few moments ago, he is still the clear chip leader here at the final table of Event 43.
Chip Counts
Neil Channing
6,520,000
1,520,000
James Mackey
3,000,000
Henry Lu
2,200,000
Tom Alner
675,000
Tags: Neil Channing.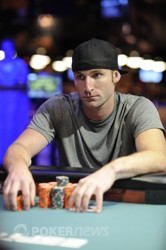 John Nelson had been bleeding chips for the last few orbits and would then get all his chips in on a
flop. He held
and unfortunately would run into the giant stack of Neil Channing, who held
.
Nelson would need some help that would never come as the
on the turn and the
on the river would send the pot to Channing and Nelson out the door in fifth place.
Chip Counts
John Nelson
Busted
Tags: John Nelson, Neil Channing.
John Nelson was under the gun when he opened up the pot to 100,000. Neil Channing was in the small blind and he three-bet to 235,000. Nelson made the call and the dealer readied three cards.
Flop:
On the flop, Channing led for 180,000 and after thinking for a long time, Nelson raised it to 385,000. Channing then popped it to 610,000 and Nelson instantly mucked. With that, Nelson joins Tom Alner as one of the shorter stacks at the table.
Tags: Neil Channing, Tom Alner.
James Mackey opened to 100,000 and Tom Alner moved all in from the small blind. Alner had 730,000 and Mackey folded after he got a count.
Tags: James Mackey, Tom Alner.
All the cheering sections for the different players are now cheering "Oh yeah" when their player wins a pot. The sides are engaging in good natured ribbing.
Folded to Neil Channing in the small blind, he flicked out the extra chips to make the call. James Mackey checked from the big blind and a
flop was dealt.
All it took was Channing to make a bet on the flop and Mackey would let his hand go.
Tags: Neil Channing, James Mackey.
The preflop raiser has taken the blinds and antes over the past four hands.
Neil Channing and John Nelson took to a
flop and this is where the action heated up. Nelson checked and Channing bet 125,000. Back on Nelson and he popped it to 285,000. Channing then went into the tank before shoving all in, having Nelson well covered. It didn't take Nelson nearly as long to decide what to do, instantly mucking his hand and sending a few chips to Channing.
Tags: Neil Channing, John nelson.
As you can see, plenty of pots have been going the way of James Mackey and that is reflected in his chip count. He is now closing in on Neil Channing who is still the chip leader.
Chip Counts
Neil Channing
3,550,000
-450,000
James Mackey
3,150,000
1,150,000
Henry Lu
2,510,000
210,000
John Nelson
1,800,000
550,000
Tom Alner
950,000
-430,000
Tags: Neil Channing, James Mackey.
Neil Channing limped into the pot for the first time we've seen this tournament. John Nelson raised to 150,000 and Channing called.
The flop came
, Channing checked and Nelson bet 175,000. Channing folded and Nelson took the pot.
Tags: Neil Channing, John Nelson.