2012 World Series of Poker ›
Event 43: $1,500 No-Limit Hold'em
Day 2 completed
Posted 2012-06-25 GMT-6
Event 43: $1,500 No-Limit Hold'em
Day 2 completed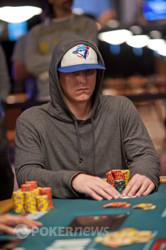 Day 2 of Event 43, $1,500 No Limit Hold'em, of the World Series of Poker has wrapped up after ten action-packed levels. There were 320 runners that returned for the day and only 20 remain. Zach Clark leads the field after bagging up 1.342 million.
Chasing Clark are Balazs Botond (1.32m), Neil Channing (1.319m) and James Mackey (1.074m). John Nelson is the only other player over seven figures with 1.019m. Jesse Yagninuma, Henry Lu, Mark Ketteringham and Randy Lew remain in the field..
Many notable players found the rail today, including; Marvin Rettenmaier, Tommy Vedes, Andrew Lichtenberger, Alex Masek, Angel Guillen, Cherish Andrews, Ryan Tepen, Pius Heinz, Jordan Morgan, Alex Outhred, Jordan Young, Andy Frankenberger, Chino Rheem, Huy Nguyen and Matthew Affleck.
Channing spent time on the leaderboard and was running well, but really hit his stride in a hand against Rodrigo Caprioli. Channing held
and was up against
. The board ran
and Channing took the chip lead at the time with 884,000.
Rettenmaier spent most of the afternoon near the top of the leaderboard. He lost a key hand against Carl DiVeglia III where DiVeglia's
outran his pocket tens. He was reduced to about twelve big blinds and then chipped up through Henry Lu. His luck would not last though; he was eliminated after the last break of the evening.
Zach Clark won a giant hand three-way pot where his pocket queens flopped a set. He went from around average to one of the tournament leaders when he walked away from that hand with over 750,000.
Day 3 will have cards in the air at 1:00 p.m. PST and should play down to a winner. It could be a close call with X players remaining. Follow all the WSOP action live on PokerNews.com.
The tournament clock has reached the ten minute mark and they will play three more hands before bagging and tagging.
We had a preflop all in showdown between Karim Vegas and John Nelson.
Nelson:

Vegas:
The board ran
and Vegas was eliminated.
Chip Counts
John Nelson
1,360,000
460,000
Karim Vegas
Busted
Tags: Karim Vegas, John Nelson.
Zack Clark opened for 29,000, Carter Phillips raised to 78,000 and Clark re-raised to 158,000. Phillips shoved for over 500,000 and Clark called.
Clark:

Phillips:
The board ran
and Phillips was eliminated in a shocking fashion.
Chip Counts
Zack Clark
1,250,000
Carter Phillips
Busted
Tags: Carter Phillips, Zack Clark.
We missed the preflop action but Julian Herold was all in against Neil Channing.
Channing:

Herold:
The board ran
and Channing retook the chip lead.
Chip Counts
Neil Channing
1,380,000
400,000
Julian Herold
Busted
Tags: Neil Channing, Julian Herold.
The field has reached 27 players and the clock has been paused for a complete redraw. We'll have it posted shortly.