2012 World Series of Poker ›
Event 54: $1,000 No-Limit Hold'em
Day 1 completed
Posted 2012-07-02 GMT-6
Event 54: $1,000 No-Limit Hold'em
Day 1 completed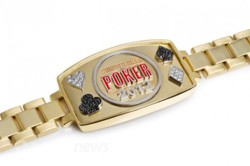 Day 1 of Event 54: $1,000 No-Limit Hold'em is a wrap with 265 players bagging their remaining chips. The day saw 3,221 hopefuls come out for the chance at bracelet glory, but as the levels increased the players decreased. The day finished with two players sharing the chip lead, both Jonas Mackoff and Clayton Fletcher finished the day with 148,500.
Most of the poker world's eyes focused on Event 55: $1,000,000 Big One for One Drop, but not everyone's. Today's event saw a slew of familiar faces such as Faraz Jaka, Bryan Devonshire, Jon Turner, Scott Montgomery, Shaun Deeb, and Bryan Micon all started the day with chips, but they did not end the day with any.
The money bubble burst in the middle of level 11 with the help of Alex Kravchenko, prompting cheers from all 325 players. Everyone from there on out was going to be walking away with a minimum $1,942.
Dutch Boyd made his presence known, taking a strong chip advantage over the rest of his table early on and maintaining and managed to finish the day in the middle of the pack. Chris Moorman came out of the woodwork late building his starting stack into a mountain of chips. A few other players coming back tomorrow are Justin Schwartz, Huck Seed, Matt Stout, Joey Weissman, and Sofia Lovgren.
All 265 players are expected to return tomorrow at 1:00 PM for Event: 54's restart. Play will consist of playing down until 9 players are left, or until 10 levels have been completed; whatever happens first. Stay tuned here to PokerNews for all your poker updates.
Two hands involving two-time World Series of Poker (WSOP) champion Dutch Boyd.
In the first hand we caught him calling a short stack shove holding
. His opponent held
and after the board ran out
Boyd had eliminated his opponent.
Then he raised to 2,500 in the cutoff, Jeff Fielder called on the button as did the big blind. The flop was
, the big blind checked, Boyd bet 3,500, Fielder called and the big blind folded. The turn
brought some mutual respect after both players checked and finally we saw the
. Boyd made a bet of 7,000 and Fielder made a very quick call before turning over
and Boyd slid his hand into the muck.
Chip Counts
Jeff Fielder
106,000
Dutch Boyd
47,000
3,200
Tags: Dutch Boyd, Jeff Fielder.
We don't know exactly how the betting went, but we know Alex Kravchenko and an unknown opponent got into a raising battle preflop that ended with Kravchenko's opponent all in and at risk.
Kravchenko:

Opponent:
The board came
and with that Kravchenko was best, and the tournament had its bubbleboy.
Chip Counts
Alex Kravchenko
85,000
50,000
Tags: Alex Kravchenko.
As we trundle into the final level of the day we are probably going to burst the money bubble. There are 336 players left and forty-five minutes to lose twelve players.
The biggest stacks in the room include Jonas Mackoff (132k), Nick Abou Risk, (116,000), Andreas Heisenberger (100k) and Clayton Fletcher (97k).
Chip Counts
Jonas Mackoff
132,000
52,000
Nick Abou Risk
116,000
30,000
Andreas Heissenberger
100,000
30,000
Clayton Fletcher
97,000
Owen Crowe
89,000
44,500
Will Jaffe
81,000
9,000
Andrew Dean
80,000
30,000
Chris Moorman
74,000
29,000
Justin Schwartz
70,000
-8,000
Joao Simao
66,000
-10,000
Mark Herm
61,000
-19,000
David Singontiko
39,000
1,000
Alex Kravchenko
35,000
10,000
Martin Finger
29,000
15,200
John Eames
28,000
5,000
Joey Weissman
27,000
-11,000
Mihai Manole
26,000
-1,000
Shannon Shorr
25,000
-11,000
Pratyish Buddiga
23,000
3,000
Paul Magriel
6,000
-59,000
Todd Terry
Busted
There are 387 players left, and the time it takes to finish a soccer match, before this bad boy is over for the night. We have just trawled through the Golden section and this is what we saw.
We saw Gionni Demers apply maximum pressure to take down a decent sized pot without the need to play any post flop poker. The player on the button raised to 1,600, Demers three-bet to 4,400 from the small blind, the big blind four-bet to 11,300, the button folded and Demers moved all-in. The big blind fiddled, and thought for a few minutes, in absolute anguish, before eventually releasing his hand.
Alexander Dovzhenko has just lost a blind squabble that has left him perilously low. The action folded around to the player in the small blind who moved all-in holding
and Dovzhenko called in the big blind holding
. The board ran out
and Dovzhenko was down to just 8,000 chips.
Alexander Dovzhenko is a true live tournament grinder with over $1.5 million in earnings going back over an eleven year stretch.
Finally, we saw former Irish Open champion, James Mitchell, lose a substantial portion of his chips to Frank Piocos and this is how. There was a raise from early position and a call from Piocos on the button. Mitchell was seated in the big blind and he squeezed for a total of 4,800, the initial raiser folded but the button made the call.
Flop:
The flop looked perfect for both because Mitchell was holding
and Piocos was holding
. The turn
and river
changed nothing and Mitchell was down to 11,000.
Chip Counts
Matt Livingstone
69,000
Michael Craig
55,000
10,000
Gionni Demers
50,000
-5,000
Yann Brosolo
48,000
-7,000
Sofia Lovgren
47,000
2,000
Jia Liu
40,000
-20,000
Matt Stout
35,400
3,400
Gianluca Rullo
30,000
-30,000
Chris Arvanitis
25,000
-19,000
Kevin Vandersmissen
19,000
6,000
Sam Holden
16,000
6,500
Tom McCormick
14,500
6,100
James Keys
14,300
-13,700
Darryl Fish
11,000
2,000
James Mitchell
11,000
-4,000
Alexander Dovzhenko
8,000
3,000
Pierre Neuville
Busted
We don't exactly know how the action went, but the board read
and Allen Kessler was being pushed a pot for his double up. Kessler had
for a pair of jacks which was seemingly good enough, as his opponent had subsequently mucked.
Chip Counts
Allen Kessler
20,000
6,000
Tags: Allen Kessler.