2012 World Series of Poker ›
Event 54: $1,000 No-Limit Hold'em
The players are on the final twenty-minute break of the day
Day 2 completed
Posted 2012-07-03 GMT-6
Event 54: $1,000 No-Limit Hold'em
Day 2 completed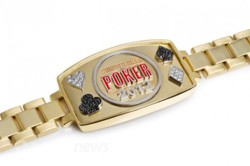 Day 2 of Event #54: $1,000 No-Limit Hold'em has been passed to the poker historians and the man whose name is inscribed in the space reserved for the chip leader is Will Jaffe. Jaffe will be returning for the final day with 1,947,000 chips. It was a fast and furious Day 2 that started with two hundred and sixty-five players, of which fifteen reserved their spaces in the final day. Here are the milestones of a great day of poker.
When the festivities began the dealers were doing most of the work (or more accurately their voices). Screams of "all-in" and "call" filled the air that was once occupied by the carnival smoke emanating from the One Drop area. We lost multiple World Series of Poker (WSOP) bracelet winner Huck Seed and legendary WSOP casher Tom McCormick. At the same time Benjamin Volpe became our early chip leader.
Two-time WSOP final tablist, John Eames, spun 5,000 into 50,000 and the dangerous German, Martin Finger, found pocket queens too strong for his pocket fours. Finger left, Eames moved up and down like a ship in the North Sea and Jonas Mackoff eliminated Matt Stout.
Will Jaffe was one of the bigger stacks that ended Day 1 and it wasn't long before he started to push his weight around on Day 2. Two-time WSOP bracelet holder Dutch Boyd was the first player to get in Jaffe's way when the unfortunate Boyd lost
v
after the
hit the turn. Jaffe moved into the chip lead and it was a lead that he would maintain for several levels of play.
The ladies were well represented as we moved into the pre dinner break level. Katherine Dozier, Sofia Lovgren and Wendy Freeman all creating healthy enough stacks to help them wade through the treacle that $1k events can often create.
When we came back after the dinner break, we still had a host of WSOP bracelet holders who were in the hunt for more gold. David 'Bakes' Baker started to really get a run of form going and as Eames was doubling through Jaffe, Bakes was taking advantage by replacing him at the top. Then we lost two bracelet winners in quick succession when Ray Foley and Alex Kravchenko were eliminated as we moved into the final 2-levels of the day; Kravchenko eliminated by another WSOP bracelet holder David Singontiko.
Into the final levels and Bakes stepped on the gas winning a big pot from Jeff Fielder before eliminating Wendy Freedman to move over the one million chip mark. Ken Fishman and Will Jaffe left David Singontiko's hopes of a second gold bracelet hanging by a thread and we lost all of the ladies when Kathy Dozier and Sofia Lovgren both bowed out gracefully.
Jason Tomkins took out Brett Shaffer, Ryan Pringle and eventually the last thread of Singontiko, and he moved into the top three, nestled just behind the new chip leader Ken Fishman and second placed David Baker. Then in the final thirty-minutes Jaffee won a 1.3 million flip against Gianluca Rullo and then won a crucial pot against Baker to cement his place as the number one going into Day 3.
At 1:00 PM we will recommence our mission to slip a WSOP gold bracelet onto the wrist of one lucky man. Please make sure you join us at PokerNews as we bring you all of the action.
Tags: Will Jaffe.
We don't know how the action went preflop, but with a board reading
Will Jaffe bet out 33,000. David Baker then raised it to 83,000. Jaffe made the call and both players were allowed to see the river.
The
on the river brought a check from Jaffe, and a bet of 156,000 from Baker. Jaffe then raised and mandated 365,000 as the bet. Baker made the call and was in for some bad news.
Jaffe had
for a set of jacks, while Baker held a weaker
for two pair. This hand allows for Jaffe to become quite the chip leader with a substantial amount more than anyone else left in the field.
Chip Counts
David 'Bakes' Baker
140,000
-860,000
Tags: Will Jaffe, David Baker.
David Smart has just been eliminated after getting all of his chips in holding
unfortionately for him the player who called the bet was Will Jaffe and he sat with
.
The board came
and Smart was gone.
Chip Counts
David Smart
Busted
Tags: David Smart.
John Eames has had to play a very patient game in the past few levels. In the end he moved 140,000 into the middle, in early position, leaving him 12-15k behind. Ken Fishman called on his left shoulder and everyone else folded.
Flop:
Eames put his last few chips into the middle and Fishman made the call. It was
for Fishman and
for Eames. The turn
and river
not handing Eames the help he required and he was out.
Chip Counts
Ken Fishman
1,050,000
-150,000
John Eames
Busted
Tags: John Eames, Ken Fishman.
Will Jaffe has just taken the chip lead in a 1.3 million flip against the Italian Gianluca Rullo.
Jaffe opened to 25,000 on the button, Rullo three-bet to 80,000 from the big blind, Jaffe four-bet to 145,000, Rullo pushed 340,000 across the line, Jaffe moved all-in and Rullo called.
It was
for Rullo and
for Jaffe. The
flop throwing Jaffe into the lead and the
and
confirming the result. It was a close count but Jaffe just about had Rullo covered and he was out in twentieth place.
Chip Counts
Will Jaffe
1,350,000
600,000
Gianluca Rullo
Busted
Tags: Gianluca Rullo, Will Jaffe.
Fernando Castaneda has just been sent packing after getting all in holding
, his opponent Nghi Van Tran possessed
. The board came
and with that Castaneda was sent home.
Chip Counts
Nghi Van Tran
450,000
180,000
Fernando Castaneda
Busted
Tags: Nghi Van Tran, Fernando Castaneda.