Day 2c completed
Posted 2012-07-12 GMT-6
Event 61: $10,000 No-Limit Hold'em Main Event
Day 2c completed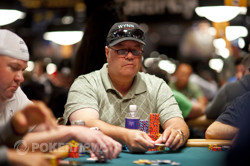 The Main Event marches on! Today saw the 2,300 survivors from Day 1c reconvene for five more two-hour levels' worth of poker, all hoping to last to tomorrow's Day 3 and join the players who won their way through during yesterday's Day 2a/2b.
When the dust settled, about 900 of those who began Day 2c survived, with Michael Hack appearing to possess the biggest stack around with 457,000, followed closely by Marco Bognanni with 452,100. In other words, no one today reached the heights achieved by Gaelle Baumann from Day 2a/2b to equal the 505,800 she bagged at night's end yesterday.
Randy Haddox began today with the biggest starting stack, and he and fellow big stack Eric Hellman spent the afternoon continuing their upward climb, soon to be joined by Sam Soverel, Ziv Bachar, Justin Ouimette, and Jeremy Allen in the race to 400,000.
Meanwhile the short stacks were busting at a rapid clip, with Scott Clements, Matt Savage, Jennifer Tilly, Ted Forrest, Kirk Morrison, Noah Schwartz, David "Doc" Sands among the early eliminations.
Phil Ivey would see his remarkable 2012 WSOP come to an abrupt end early on Day 2c as well after losing the last of his short stack to Nick DiVella, thus ending his pursuit of a sixth final table and first bracelet this summer. Others running out of chips before dinner included Jeff Madsen, Prahlad Friedman, Blair Hinkle, Jennifer Harman, Michael Mizrachi, and former WSOP Main Event champions, Jamie Gold (2006), Joe Cada (2009), and Tom McEvoy (1983).
By the final break of the night, Randy Haddox remained at the top of the Day 2c leaderboard, topping 450,000 for a while before slipping back. Luke Brereton and David Kluchman had pushed up onto the front page of the counts as well, with Jake Cody also edging toward the 300,000-chip mark. Meanwhile, Jennifer Leigh, Perry Friedman, Tom Marchese, Steve Billirakis, and Jason Alexander and his mustache and sideburns had all left us.
Also hitting the rail as the night wore down to its conclusion was the Godfather of Poker, Doyle Brunson. Brunson had mentioned earlier that he might skip this year's ME, but ultimately changed his mind because "it's such a great event!" Brunson made it through Day 1c with above average chips and lasted well into today's Day 2c, but ultimately was knocked out, with the announcement of his elimination greeted with applause from other players recognizing his significant achievements and contributions to poker.
Other late bustouts tonight included Gus Hansen, Tim West, Ludovic Lacay, and Matt Affleck. And after an up-and-down day, Viktor "Isildur1" Blom also hit the rail during the last half-hour of play.
Meanwhile, chip leaders Hack and Bognanni emerged, with Jonathan Fountain, Randy Haddox, and John Leathart also ending the day with 400,000-plus chips. Other notables making it through the day who will return to healthy stacks tomorrow include Burt Boutin, Sam Holden, Jake Cody, Joseph Cheong, Ravi Raghavan, Ronnie Bardah, Ben Lamb, Antonio Esfandiari, and Johnny Chan. You can see some of those players in tonight's update with Lynn Gilmartin:
Thanks for following our coverage today and be sure to return to PokerNews tomorrow at noon Vegas time for Day 3 of the World Series of Poker Main Event when the entire field of about 1,760 finally merges to continue the long journey toward finding this year's final table.
Tags: Michael Hack.
On a board of
, Sam Holden checked, Barry Wiedemann fired 5,200, Freddy Deeb folded, and David Kluchman raised to 14,000. Holden and Wiedemann both released, and Kluchman added to his monster stack.
Chip Counts
David Kluchman
375,000
3,000
Sam Holden
GB
327,000
119,000
Barry Wiedemann
122,000
-19,000
Freddy Deeb
120,000
-22,000
Tags: Sam Holden, Barry Wiedemann, Freddy Deeb, David Kluchman.
The tournament clock has been paused and the call for five more hands has been made. Stay tuned for some notable end-of-day chip counts and a recap of all the action.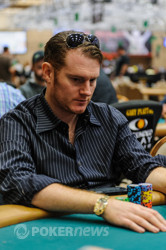 The flop read
, and action was on Andy Frankenberger who bet out, Johnny Chan was the only other person in the hand and he opted to raise. Frankenberger countered by moving all in and Chan made the call. As is the custom cards were flipped over and both players saw where they were standing, and it was Frankenberger on top.
Frankenberger:

Chan:
The
fell on the turn, solidifying Frankenberger's double up even more, but the
on the river put the hand in Chan's favor and Frankenberger was sent home.

Chip Counts
Johnny Chan
220,000
86,000
Andy Frankenberger
Busted
Tags: Andy Frankenberger, Johnny Chan.
The flop read
and Marcel Luske was first to act and he opted to check. His later positioned opponent did the same and both players were allowed to see the turn.
The
then rolled off the deck and Luske bet out 4,000 and his opponent called. The dealer then landed the
on the river and Luske checked. The later position player then bet out 7,200. Luske's response was to raise to 17,200. After a minute or so of thinking Luske's opponent made the call and Luske flipped over
for three of a kind fives. Luske's opponent mucked and Luske raked in the pot.
Chip Counts
Marcel Luske
155,000
84,000
Tags: Marcel Luske.