Day 4 completed
Posted 2012-07-14 GMT-6
Event 61: $10,000 No-Limit Hold'em Main Event
Day 4 completed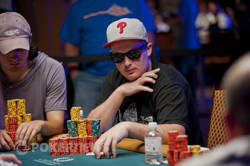 After another four levels of hard-fought No-Limit Hold'em, Day 4 of what is arguably poker's most prestigious tournament — the Main Event — is history. When all was said and done, Paul Volpe would stand tall as the Day 4 chip leader with 2,750,000.
Play was scheduled for five levels today; however, players were sent on an extended break at the end of the 17th level so that payouts could be verified. As a result, it was decided that only four levels be played today.
Day 4 kicked off with 720 hopefuls all trying to survive – and thrive – into the money. However, only 666 spots were guaranteed a minimum $19,227 payday.
As expected, the money bubble came shortly after play began for the day. In the very first deal of hand-for-hand play, we witnessed a four-way bubble, which meant each bubble boy would take home a share of a $19,227 min-cash. It was also decided they would play a four-handed single-table tournament to determine who would get a seat in next year's Main Event.
Among those who managed to cash, but ultimately fall short of the elusive Day 5 include Jason Mercier, Liv Boeree, Brock Parker, JC Tran, Tuan Le, Huck Seed, Terrence Chan, Mike McDonald, Chris Moorman, One Drop Champion Antonio Esfandiari, Maria Ho, Shaun Deeb and NHL goalie Roberto Luongo, who made his Main Event debut and had to settle for a min-cash after running pocket fours into Bryan Vanrijsbergen's pocket jacks.
Also unable to last the day was Johnny Chan, our last-standing Main Event champion. Chan met his end late in the day after getting all-in preflop with pocket sevens and running into Isaac Baron's pocket kings. Barron flopped quads on the flop and that was all she wrote for Chan.
By the day's end, just 282 remained to duke it out on Day 5. Some notables still in the hunt include Erik Hellman (2,216,000), John Juanda (194,000), Kyle Bowker (2,081,000), Gaelle Baumann (1,438,000), Gavin Smith (831,000) and Vanessa Selbst (1,678,000) who spent all of her day at a restricted-access feature table.
Volpe came into Day 4 among the chip leaders and steadily built his stack throughout the day. Volpe was able to score a couple of eliminations, including the elimination of Sean Rice during the last level of play to propel his stack over three million. Volpe would have ended the day with about four million; however, he lost a big pot against Eric Pratt just before play ended.
Perhaps unsurprisingly, many of today's survivors also boast deep runs in prior Main Events. Here is a look at their names, chip counts going into Day 5 and their best prior Main Event results:
| Name | Chip Count | Best Main Event Result |
| --- | --- | --- |
| Perry Green | 304,000 | 1981, 2nd — $150,000 |
| Joseph Cheong | 1,441,000 | 2010, 3rd — $4,130,049 |
| Eric Buchman | 2,070,000 | 2009, 4th — $2,502,890 |
| Marcel Luske | 603,000 | 2004, 10th — $373,000 |
| Jamie Robbins | 1,538,000 | 2009, 11th — $896,730 |
| Andrew Lichtenberger | 1,150,000 | 2009, 18th — $500,557 |
| JP Kelly | 778,000 | 2011, 26th — $302,005 |
Daniel Negreanu also survived into Day 5 with 302,000 in chips. This marks the second year in a row Negreanu has made a deep run in the Main Event. He will undoubtedly be looking to best his 211th-place finish from last year.
Here is a look at our top ten chip leaders going into Day 5:
Top Ten Chip Counts

| Place | Player | Chips |
| --- | --- | --- |
| 1 | Paul Volpe | 2,750,000 |
| 2 | Erik Hellman | 2,216,000 |
| 3 | Dave D'Alesandro | 2,093,000 |
| 4 | Kyle Bowker | 2,081,000 |
| 5 | Eric Buchman | 2,076,000 |
| 6 | Elisabeth Hille | 2,014,000 |
| 7 | Andras Koroknai | 1,971,000 |
| 8 | Amit Zulkowitz | 1,961,000 |
| 9 | Eric Legoff | 1,947,000 |
| 10 | Nicco Maag | 1,899,000 |
The plan tomorrow is to begin at 12:00 PM PST and play a regular schedule of five additional levels.
Be sure to stick with us here at PokerNews as we provide you with all the action from the felt as the remaining field works its way towards a final table!
Tags: Paul Volpe.
Matt Woodward opened to 21,000 from middle position, Shahriar Assareh called in the hijack seat, Amnon Filippi called in the cutoff, and Timothy Adams three-bet to 91,000 on the button. Woodward four-bet to 185,000, Assareh and Filippi folded, and Adams moved all in for 672,000. Woodward called.
Adams stole the lead from Woodward when the flop fell
. The turn and river bricked
,
respectively, and Adams shipped a monster double.
Chip Counts
Timothy Adams
1,395,000
745,000
Shahriar Assareh
1,030,000
-270,000
Amnon Filippi
820,000
-380,000
Matt Woodward
216,000
-434,000
Tags: Shahriar Assareh, Amnon Filippi, Matt Woodward, Timothy Adams.
No more then 30 seconds after the big hand with Paul Volpe, we saw another big hand developing in the mothership. Matt Marafioti was all in preflop for his last 310,000 with
, but he was in a world of hurt, as Nghi Van Tran held
.
Marafioti would need a ton of help to survive, and the flop was about as good as he could have asked for, coming
. Any heart would do for Marafioti, and the dealer didn't leave him waiting anymore, as the
hit the turn. Marafioti shot out of his chair, and began to jump around the main stage in celebration. The meaningless river was the
, and Marafioti walked away from the table to compose himself after the miracle suckout.
After that hand, Marafioti shoots up to 673,000, while Van Tran drops to 1.2 million.
Chip Counts
Nghi Van Tran
1,200,000
-67,000
Matt Marafioti
673,000
356,000
Tags: Matt Marafioti, Nghi Van Tran.
Three players were all in preflop, including Scott Abrams, Robert Buckenmayer, and Josh Neufeld. Neufeld had both players covered, and Abrams had Buckenmayer covered by 250,000 or so.
| | |
| --- | --- |
| Abrams | |
| Buckenmayer | |
| Neufeld | |
The flop fell
, leading a player at the table to gasp. The turn was the
, keeping Abrams alive, and the
bricked on the river.
Buckenmayer tripled to 475,000, Abrams increased his stack to 515,000, and Neufeld slipped to 835,000.
Chip Counts
Josh Neufeld
835,000
-65,000
Scott Abrams
515,000
115,000
Robert Buckenmayer
475,000
275,000
Tags: Scott Abrams, Robert Buckenmayer, Josh Neufeld.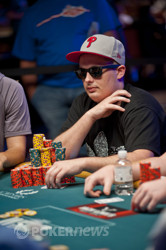 There was a mountain of chips in the middle when we got to the table, and based on the positions, here's how we believe it went down. Eric Pratt had put in a four bet to 115,000, but Volpe had already responded by moving all in when we got there. Eventually, Pratt made the call for the rest of his stack, which was 631,000.
Volpe:

Pratt:
The flop kept Volpe out in front, coming
. The
on the turn brought chop outs for Pratt, as a five would split the pot. He was still looking for an ace or a king on the river, and the rail eagerly anticipated that card.
River:
Pratt binked the ace on the river to double up, and Volpe just took it in stride, and started counting out the chips. After that hit, Volpe drops to 2.8 million, while Pratt shoots up to 1.26 million.
Chip Counts
Paul Volpe
2,750,000
-650,000
Eric Pratt
1,260,000
555,000
Tags: Eric Pratt, Paul Volpe.
We caught up to find Fergal Nealon move all in and Susie Zhao move all in over the top. The remaining player in the hand folded and the hands were turned over to find Zhao in the lead.
Zhao:

Nealon:
The two players watched on as the dealer brought forth a flop of
, pairing Nealon's ten.
"There's the sweat," remarked Zhao.
She didn't need to worry, however, as the turn was the
and the river the
, ensuring her victory and Nealon's elimination from the tournament.
Chip Counts
Susie Zhao
670,000
45,000
Fergal Nealon
Busted
Tags: Susie Zhao, Fergal Nealon.
It's that time of night again. The tourney clock has been stopped and it has been announced that just three more hands are to be played at each table.
The big board is showing 284 players still with us at the moment.