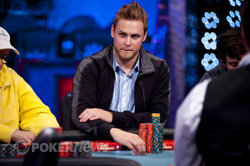 When the sun rose over Las Vegas today, 282 players awoke with dreams of becoming the next world champion of poker. After five grueling levels of play on Day 5, only 97 remain. This means that at the most basic level, each player returning for Day 6 has at least a one in ninety-seven shot at winning the first place prize of $8,527,982 and the shiny gold championship bracelet that accompanies it. The one closest to achieving this goal is Kyle Keranen who is sitting on the biggest stack in the room with 6,935,000.
On Keranen's heels is Robert Salaburu who finished Day 5 with a stack of 6,195,000. Rounding out the top three is Taylor Paur with 5,820,000.
When the day began there were several notable names still in the hunt for the championship. However, as both the blinds and the pressure rose, many of those players were sent to the rail with their summer coming to an end a bit earlier than they would have enjoyed. Eric Cloutier, Jesse Martin, John Juanda, Andrew Lichtenberger, Freddy Deeb, JP Kelly, Randy Haddox, AP Phahurat, Andrew Moreno, Will Souther, Dan Shak, Chance Kornuth, John Phan, and Sorel Mizzi are just a handful of the players who saw their stacks vanish today.
Daniel Negreanu was one of the other faces to hit the rail today. This makes Negreanu's second Day 5 bust from the Main Event in back to back years. While seated at the featured table, Negreanu moved all in for his last 240,000 in chips from early position. It folded around to actor Kevin Pollak in the cutoff who tanked before moving all in for his last 500,000. It folded around and Pollak showed
which was crushing Negreanu's
. Negreanu failed to improve and was forced to end his summer with a 160th-place finish.
Soon after, Pollak would meet his untimely demise in a most sickening fashion. Pollak moved all in before the flop holding
and was called by Omar Saeed with the other two queens. Saeed would flop two hearts and then hit two more on the streets to follow to end Pollak's impressive run in the Main Event. After the initial shock wore off of Pollak's face, all he could do was laugh at the crazy scenario that unfolded. The renowned actor made a remarkable run with his 134th-place finish and left everyone within the vicinity of his table with a smile on their face.
The day also saw the elimination of the oldest player in the field, the 76-year-old Perry Green. Green has three WSOP bracelets to his name and finished runner-up to Stu Ungar in the 1981 WSOP Main Event. Green announced "Shuffle Up and Deal" to the runners today and left an impression of humility on the room through his words. Green hit the rail when he ran into the two pair of an opponent.
Jospeh Cheong was also returning to play today to take on his third consecutive Day 5 in a row. Cheong was able to battle through and move on to the final table in 2010 and finished in 114th in 2001. Cheong was forced to settle for a 115th place finish this year when he was eliminated by Paul Volpe. Volpe ended up finishing the day with a stack of 3,250,000.
While many big names fell, others were able to thrive and move on to Day 6 of the biggest poker tournament in the world. Keranen finished the day as the chip leader and was able to start his upward trend when he six-bet all in with
. Keranen was able to crack his opponent's pocket jacks to scoop the pot of almost three million chips.
Other notable names that will be returning for Day 6 include Gaelle Baumann (3,980,000), Jan Heitmann (3,410,000), Amnon Filippi (3,400,000), Elisabeth Hille (3,390,000), A.J. Jejelowo (3,340,000), Roland Israelashvili (2,805,000), Marcia Topp (1,700,000), Jason Somerville (1,400,000), David ODB Baker (1,360,000), Vanessa Selbst (1,350,000), Erik Cajelais (1,180,000), Greg Merson (945,000), Sam Holden (765,000), and Gavin Smith (675,000).
Play will resume tomorrow at 12:00 PM PST where the final 97 players will return for five more levels. Join us here on PokerNews as we track these players' quests for WSOP glory!
Tags: Kyle Keranen.
Most of the remaining players were bagging and tagging when we heard a dealer shout, "All in and call!"
When we reached the table, Kirill Rabtsov was standing with
laying in front of him. Jeremy Ausmus had
, and the board was
. Rabstov was eliminated, while Ausmus' stack crossed the 3 million-chip mark.
According to Ausmus, Rabstov led out on the flop, Ausmus called, and Rabstov led again on the turn. Ausmus moved all in, and Rabstov snapped it off. The
completed the board, removing Rabstov from the 2012 Main Event.
Chip Counts
Jeremy Ausmus
3,375,000
797,000
Kirill Rabtsov
Busted
Tags: Jeremy Ausmus, Kirill Rabstov.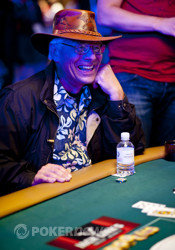 It happens every year. A kind of camaraderie tends to develop between those who make it through the long, arduous journey into the money of the WSOP Main Event, especially for those getting all of the way to the end of a Day 5.
Just now came an illustration of that phenomenon after the announcement came that the field had shrunk to just 99 players. That meant a pay jump had been crossed, with all of those remaining guaranteed at least $62,021.
Over at Table 411, Fred Vogt had been folding hands for quite some time, his stack having fallen under 200,000. When the announcement came, the entire table recognized that Vogt had made it through with his short stack, and all congratulated him with fist bumps.
Helge Stjernvang, sitting to Vogt's right, was ecstatic for Vogt. "You made it!" he said, patting him on the back. "Patience paid off," said Erik Hellman from across the table. Vogt thanked them all, his grin as wide as his stack is small.
Vogt continued smiling through the last hands of the night, folding his way to Day 6, happy to have have made it this far. And probably happy to sleep one more night knowing that when he wakes up tomorrow, he's still playing in the greatest poker tournament in the world.
Chip Counts
Frederick Vogt
55,000
-653,000
Tags: Frederick Vogt.
The players will play five more hands then bag and tag for the evening.
2012 WSOP bracelet winner Timothy Adams raised on the button, Roland Israelashvili three-bet from the big blind, and Adams four-bet jammed. Israelashvili, who final tabled the $50,000 Poker Players Championship, went into the tank, then called.
The
flop changed little, but the
spiked on the turn, giving Adams a leading pair of aces.
There was still one card to come however, and the
slammed on the river, giving Israelashvili a set of tens, and eliminating Adams from the tournament.
Chip Counts
Roland Israelashvili
2,730,000
1,050,000
Timothy Adams
Busted
Tags: Timothy Adams, Roland Israelashvili.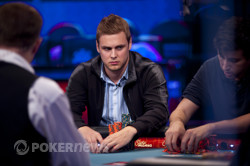 Kyle Keranen raised to 60,000 from under the gun, and Marcia Topp called from the big blind. The flop came down all spades
, and Topp fired 100,000. Keranen called, and the turn was the
. Topp check called a bet of 175,000 from Keranen, and the river was the
. This time, Topp bet 175,000, and it was on Keranen. He elected to raise it to 475,000, and after about 30 seconds of thinking, Topp made the call.
Keranen

Topp:
Keranen's ace kicker was good enough to take the pot, upping him to a chip leading 6.816 million. That hit drops Topp to 1.682 million.
Chip Counts
Kyle Keranen
6,632,000
638,000
Marcia Topp
1,682,000
-1,178,000
Tags: Marcia Topp, Kyle Keranen.
Action folded to Casey Yontz in the cutoff and he raised to 65,000, which Dung Nguyen called from the small blind. The latter proceeded to check-call a bet of 90,000 on the
flop, before check-calling a bet of 134,000 on the
turn.
When the
appeared on the river, Nguyen checked for a third time and Yontz reluctantly checked behind. "Five," Nguyen said and rolled over
. It was good as Yontz mucked, but not before informing Nguyen that he didn't want to see another club.
Chip Counts
Casey Yontz
2,050,000
-450,000
Dung Nguyen
1,700,000
300,000
Tags: Dung Nguyen, Casey Yontz.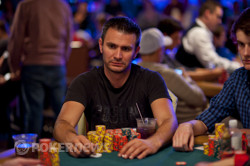 Gaelle Baumann opened for a min-raise to 60,000 from under the gun, and the action folded to Andras Koroknai, who moved all in for what looked like 2 million from the small blind. Gavin Smith folded from the big blind, and thinking that the action was completed, Koroknai mucked his hand.
When he realized his mistake, he pulled back one of his cards, but the other was irretrievable. A floorperson was called to the table, and the dealer explained what had happened. Tournament Director Dennis Jones was called over to make the ruling, and upon hearing the story, he stood silently for half a minute.
Smith, who was standing next to him, began laughing at the difficulty of the decision.
After a moment for thought, Jones informed the table that Koroknai would have to forfeit 60,000 chips to Baumann, but that he wouldn't be eliminated completely.
"Really?" Smith blurted.
Baumann was also confused with the ruling, so Jones pulled out his iPhone and called Vice President of the World Series of Poker Jack Effel. After a two-minute conversation, Jones hung up, and announced to the table that the original ruling would stand.
"You're not losing your tournament life," Jones told Koroknai.
In Jones' explanation to the table, he cited the "integrity of the tournament" as the major factor in the decision.
According to Smith, Baumann showed two kings.
Tags: Andras Koroknai, Gaelle Baumann, Gavin Smith.