2012 World Series of Poker ›
Event 7: $1,500 Seven Card Stud
Day 1 completed
Posted 2012-06-01 GMT-6
Event 7: $1,500 Seven Card Stud
Day 1 completed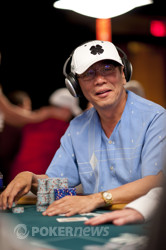 Today the second Seven Card Stud event of this year's WSOP started. The event drew a total of 367 players fighting for a spot on Day 2. Amongst those we didn't see was last year's champion Eugene Katchalov who was busy playing in the $5,000 Mixed Max tournament. Katchalov won $122,909 last year in this tournament and this year our winner will go home with $126,363.
As always, a Seven Card Stud tournament started out pretty slow and it was the unfortunate Matt Hawrilenko who was the first to bust, just two hours into the event. There were plenty of interesting tables and a ton of WSOP bracelet winners among the ones competing. Big names like EPT winner Kevin MacPhee, Richard Ashby and $25,000 6-Max WSOP Champion Dan Kelly left early, but there was still plenty to look out for.
Sam Grizzle, one of the most talkative players in every poker room, made a splash today. Grizzle was seated next to last year's $10,000 H.O.R.S.E. Champion Fabrice Soulier and both players did really well. Soulier seemed to be back in championship form as he racked up 28,500 chips, Grizzle ended with a bit more and will come back tomorrow with 31,600.
The chip leader going into day two is Rogerio Sousa. He managed to gather 41,000 chips and will be looking secure a spot at the final table tomorrow. Just over 100 players remain for Day 2. We will restart tomorrow at 2:00 PM local time and play 10 levels. This will hopefully be enough to reach the final table. On Saturday, we will play down to a winner.
Be sure to stay tuned to PokerNews for all of the coverage. Until tomorrow, goodnight from the Rio!
Tags: Kevin MacPhee, Kevin McGuinness, Sam Grizzle.
Jon Turner couldn't hit another miracle to stay alive against Timothy Finne and has been eliminated. Turner was all in and Finne made trip jacks on seventh street and left Turner drawing to a gutshot straight draw. Turner couldn't pull what he needed and was eliminated from the event.
Chip Counts
Jon Turner
Busted
Tags: Jon Turner, Timothy Finne.
Jon 'pearljammer' Turner just pulled a rabbit out of his hat when he hit a one outer in order to stay alive against Timothy Finne.
Finne: (x)(x) /
/
/
/
/ (x)
Turner: (x)(x) /
/ (x)
Opponent: (x)(x) /
/
/
/
/ (x)
We caught the action a bit late but there was still plenty of excitement to report about. On seventh street Turner said, "Please just have a pair of tens", as he was hoping to be live on multiple cards. "Sorry, I got nines up", Finne replied as he showed his
. "I guess I got one out than", Turner said as he was looking to find the case jack to fill up his straight with
. "It's paint", Turner said sweating his final card. He than turned over the
and everyone at the table responded to this important river card. "Triple up on a one outer. That bracelet is mine", Turner laughed as he stacked up his chips. He's back up to the starting stack.
Chip Counts
Timothy Finne
22,000
5,000
Jon Turner
4,500
3,200
Tags: Jon Turner, Timothy Finne.
Fabrice Soulier has recently been knocked down from the top of the counts and by the looks of things, Sam Grizzle is the man to catch as the players move into the last level of the night. On this recent hand, the two played a pot together that saw Soulier get some chips back from Grizzle.
Grizzle: (x)(x) /
- fold
Soulier: (x)(x) /
We picked up the action on fourth street as Grizzle bet and Soulier raised. Grizzle called. On fifth street, Grizzle was faced with a bet from Soulier after the Frenchman paired his board with eights. Grizzle folded and showed the
from his hole cards and Soulier won the pot.
Chip Counts
Sam Grizzle
31,000
29,000
Fabrice Soulier
26,200
-7,200
Tags: Sam Grizzle, Fabrice Soulier.
The 2010 WSOP Player of the Year, Frank Kassela, just survived an all in for his tournament life.
Frank Kassela: (x)(x) /
/
/
/
/ (x)
Opponent: (x)(x) /
/
/
/
/ (x)
Kassela completed on third street and his opponent called. On fourth and fifth street Kassela bet and his opponent called. On sixth street Kassela moved all in for 900 chips and his opponent called once more. Kassela showed
and beat
in order to stay alive.
Chip Counts
Frank Kassela
6,000
1,600
Tags: Frank Kassela.