2012 World Series of Poker ›
Event 7: $1,500 Seven Card Stud
Day 2 completed
Posted 2012-06-02 GMT-6
Event 7: $1,500 Seven Card Stud
Day 2 completed
The only change here, is that we're now verified by the WSOP.
Chip Counts
David Williams
493,500
Andy Bloch
296,500
Barry Greenstein
254,000
Stephen Su
180,000
Lee Goldman
175,500
Scott Abrams
130,000
Caroline Hermesh
61,500
Joseph Ranciato
35,000
Huu Vinh
26,500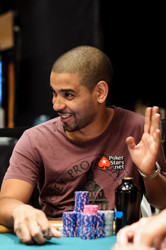 Day 2 of the Event 7: $1,500 Seven Card Stud is in the books and it was a long one. When the day began, 110 players remained from the starting field of 367. The money bubble was set at 40 players at it didn't take very long to get there. The last player to go without any profit on his or her investment was David Tighe in 41st place. From there, the quest for the final table was on, although not reached at the end of the night.
Speaking of the end of the night, the player on top when things were finished was David Williams. He bagged up a massive 493,500 in chips and will start Day 3 as the man to catch. In second place is Andy Bloch with 296,500 and then Barry Greenstein comes in behind him at 254,000.
Some of the notables to finish in the money, but bust on the day included Artie Cobb, David Singer, Brett Richey, Sam Grizzle, Marco Traniello, Chau Giang and Fabrice Soulier.
Here's how the final nine finished out the day:
| Seat | Player | Chips |
| --- | --- | --- |
| 1 | Scott Abrams | 130,000 |
| 2 | Andy Bloch | 296,500 |
| 3 | Joseph Ranciato | 35,000 |
| 4 | David Williams | 493,500 |
| 5 | Lee Goldman | 175,500 |
| 6 | Stephen Su | 180,000 |
| 7 | Huu Vinh | 26,500 |
| 8 | Caroline Hermesh | 61,500 |
| 9 | Barry Greenstein | 254,000 |
Up top for tomorrow's winner is $126,363 and the most coveted prize in poker — a World Series of Poker gold bracelet. PokerNews will be on hand for all of the live coverage starting at 2:00 PM and we hope to have you following along.
Until then, goodnight from the Rio!
Tags: David Williams.
The clock has run out and we will return with 9 players tomorrow. David Williams took down a nice pot to close the night and will be the big chip leader entering Day 3.
Full counts coming shortly...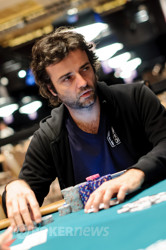 The champion of last year's $10,000 buy-in H.O.R.S.E. Championship, Fabrice Soulier, has just been eliminated in 10th place for $9,046.
Soulier was all in on fourth street with the (
) /
for a split pair of eights. he was up against Barry Greenstein holding the (
) /
for a split pair of queens. Soulier couldn't improve and therefore was eliminated in 10th place.
The final nine players then voted to play out the final 13 minutes of the night or call it quits. After some back and forth, one player — Lee Goldman — objected to stopping for the night and voted to play on. And with that, we'll have the "unofficial" final table redraw for you in just a few moments.
Chip Counts
Fabrice Soulier
Busted
Tags: Fabrice Soulier, Barry Greenstein, Lee Goldman.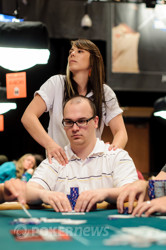 Steve Billirakis got crushed down to 2,000 in chips in a hand against Andy Bloch where Bloch made kings and sevens. Billirakis had a pair of queens on board, but mucked when he saw Bloch table his winning two pair.
Shortly thereafter, Billirakis was eliminated in 11th place for $7,144.
Chip Counts
Steve Billirakis
Busted
Tags: Andy Bloch, Steve Billirakis.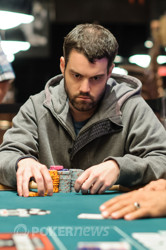 Matt Grapenthien was all in on fifth street with (
) /
for a split pair of queens and a flush draw. His opponent, David Williams, held the (
) /
for a split pair of threes.
Williams nailed the
on sixth and the
on seventh to finish with nines and threes. Grapenthien bricked off and was eliminated.
Chip Counts
David Williams
300,000
30,000
Matt Grapenthien
Busted
Tags: Matt Grapenthien, David Williams.