2012 World Series of Poker ›
Event 9: $1,500 No-Limit Hold'em Re-Entry
Chip Counts
Ashkan Razavi
10,180,000
780,000
Amanda Musumeci
3,675,000
-325,000
Derrick Huang
1,470,000
-330,000
The final three players are now on a twenty-minute break.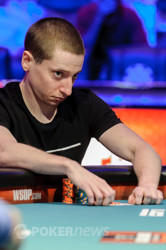 Ryan Olisar's tournament life has just come to an end over the course of two hands. The first hand saw Olisar open to 160,000 from under the gun, at which point Amanada Musumeci moved all in from the button. The blinds out of the way and Olisar made a quick call.
Olisar turned over
and Musumeci tabled
. It was off to the races, with Musumeci the one at risk. Well, she was at risk until
had been dealt on the board and then Olisar was drawing dead and the meaningless river would change nothing.
Olisar was left with only 60,000 at this point and after the 10,000-chip ante, would be all in from the big blind the very next hand. All three players limped during this hand and then checked it down as the
board was dealt out.
Olisar watched as Derrick Huang turned over
, Musumeci tabled
and Ashkan Razavi held
, the best hand - a pair of fives. Now it was Olisar's turn to show his cards.
Olisar slowly looked at his cards and turned over the
first. "I have a flush draw," he said before slowly peeling back his second card like it was baccarat. Unfortunately it was the
and it was all over in 4th place for Olisar.
Chip Counts
Amanda Musumeci
4,000,000
2,000,000
Ryan Olisar
Busted
Tags: Ryan Olisar.
Chip Counts
Ashkan Razavi
9,400,000
-400,000
Amanda Musumeci
2,000,000
275,000
Ryan Olisar
1,900,000
135,000
Derrick Huang
1,800,000
-850,000
Ryan Olisar has moved all in before the flop two out of the past three hands. During the first he did so from the button and was able to take down the blinds and antes. In the second, Ashkan Razavi raised to 160,000 and Derrick Huang called. Olisar shipped from the big blind and both players mucked their hands.
Ever since Ashkan Razavi eliminated Duy Ho just ten minutes ago, the rest of the table is seemingly scared to rumble with him. We just witnessed Razavi take down four out of six pots preflop. The first saw him three-bet out of the big blind when Derreck Huang opened from under the gun. Huang folded and Razavi took it down.
The other three saw Razavi simply open the pot preflop and receive no action from his three opponents. Razavi is currently closing in on having two thirds of all the chips in play.
Chip Counts
Ashkan Razavi
9,800,000
600,000
Tags: Ashkan Razavi.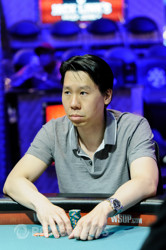 Derrick Huang was the table short stack and started the action by moving all in for 825,000. Ryan Olisar peeked at his cards and announced that he was all in over the top. This brought the action to Amanda Musumeci who looked at her cards, then at her opponents, then back at her cards once again.
"I'm all in," said Musumeci, drawing several gasps from the rail.
The three hands were revealed to the table, only to find that Olisar and Musumeci had the same hand:
Olisar:

Musumeci:

Huang:
With Olisar and Musumeci sharing outs, Huang was hopeful for a triple up this hand. The poker gods must have heard Huang's request, as the flop fell
, pairing Huang's queen. The
gave Olisar and Musumeci outs to make a straight, but the
that rivered did not help them. Huang was able to drag in a key triple up while giving hits to two of his three remaining opponents.
Chip Counts
Derrick Huang
2,650,000
1,775,000
Ryan Olisar
1,765,000
-1,035,000
Amanda Musumeci
1,725,000
-975,000
Tags: Amanda Musumeci, Derrick Huang, Ryan Olisar.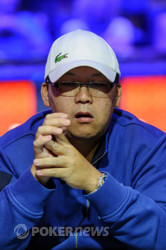 We've seen Duy Ho raise to some rather large amounts before the flop during this event and this hand proved to be no different. Ho opened to 300,000 and it folded to Ashkan Razavi who three-bet to 740,000 from the small blind. Ho replied by shipping all in for 3,700,000 and Razavi snap called, tabling
which was far ahead of Ho's
.
The flop fell
and Razavi retained his lead with his pocket kings. Fourth street brought the
and Ho was in need of one of the two remaining treys in order to stay alive in this tournament. The
river did not oblige Ho and he was sent to the rail in fifth place.
Chip Counts
Ashkan Razavi
9,200,000
4,200,000
Duy Ho
Busted
Tags: Ashkan Razavi, Duy Ho.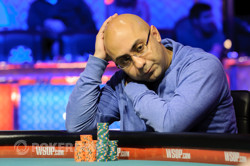 Ryan Olisar has just faulted somewhat to see his stack plummet, while Ashkan Razavi has seen his stack grow to continue holding a massive chip leader.
The hand in question started when Ryan Olisar opened the cutoff to 160,000. Amanda Musumeci called in the small blind and it was on Ashkan Razavi in the big blind. A three-bet to 465,000 from Razavi would send the play to Olisar who quickly four-bet to 830,000.
Musumeci let her hand go and Razavi thought deeply before five-bet shoving all in. This prompted Olisar to immediately fold, at which point Razavi showed the rail his hand - suffice it to say the rail was very happy. The dealer thought there was a chance Musumeci could see his hand and therefore quickly flashed Razavi's hand to the table. It was very quick, but it looked very much like
.
Chip Counts
Ashkan Razavi
5,000,000
700,000
Ryan Olisar
2,800,000
-700,000
Tags: Ashkan Razavi, Ryan Olisar.
Chip Counts
Ashkan Razavi
4,300,000
-500,000
Duy Ho
3,900,000
700,000
Ryan Olisar
3,500,000
-100,000
Amanda Musumeci
2,700,000
-50,000
Derrick Huang
875,000
-775,000