2012 World Series of Poker ›
Event 9: $1,500 No-Limit Hold'em Re-Entry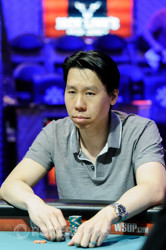 We have a new chip leader and his name is Derrick Huang. Where did he get his chips you ask? From Amanda Musumeci.
The hand in question started when Musumeci opened it to 130,000 from the cutoff. Derrick Huang called in the small blind and a
flop was dealt.
Huang would check to Musumeci who bet 155,000. Huang called and the dealer turned over a
on the turn. Huang would again check and Musumeci again fire, this time 215,000. Another call and the final card would be dealt on the river.
The
would see Huang check and instead of going with a third bullet, Musumeci would go with a check. Huang said he had queen high and was getting ready to fold his hand, but that would all change when Musumeci turned over
for just jack-high. Huang's
hit the felt and he took down the pot to become the new chip leader.
Chip Counts
Derrick Huang
4,100,000
500,000
Amanda Musumeci
3,375,000
-475,000
Tags: Amanada Musumeci, Derrick Huang.
Level 28 started
Posted 2012-06-06 GMT-6
Level:

28
Blinds:

30000/60000
Ante:

10000
Chip Counts
Amanda Musumeci
3,850,000
-400,000
Ashkan Razavi
3,625,000
1,325,000
Derrick Huang
3,600,000
-200,000
Duy Ho
2,900,000
-100,000
Ryan Olisar
1,320,000
170,000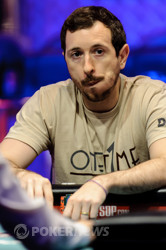 It was the last hand before the first 20-minute break of the day that would see Brian Rast eliminated in a gallant 6th place.
The hand in question saw cards fly into the muck from all directions before it was on Ashkan Razavi on the button. Razavi would raise it up to 100,000 and it was on Rast in the small blind. He shoved for his short stack and Razavi immediately made the call.
Razavi:

Rast:
The crowd went wild, especially Razavi's rail as they cried out for a king. The
flop didn't house a king, but it was a good one for Razavi. The
turn wasn't what Rast was looking for and the
on the river would be the final bullet in Rast's tournament life.
With that hand, the remaining five players have been sent on a 20-minute break. We will have full chip counts for you shortly. The chip lead is going to be close between Razavi and Musumeci.
Chip Counts
Brian Rast
Busted
Tags: Ashkan Razavi, Brian Rast.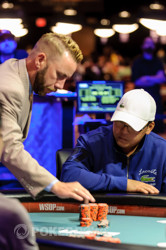 Duy Ho's position in this tournament has just changed dramatically thanks to the chips of Ryan Olisar. Folded to Olisar in the small blind, he raised it up to 130,000. Ho was directly on his left in the big blind and shoved all-in.
Olisar thought hard as it was 1,470,000 to call. Eventually he decided to go with the call and two players tabled their hands.
The
flop prompted Ho's rail to shout and cheer at the sight of the nine, while the
turn would see them shout out for another paint card.
The
on the river was what they were looking for as Ho took the huge double up. Olisar is now struggling as one of the shortest stacks at the table.
Chip Counts
Duy Ho
3,000,000
1,900,000
Ryan Olisar
1,150,000
-1,600,000
Tags: Duy Ho, Ryan Olisar.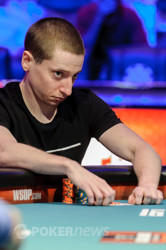 Amanda Musumeci popped it up to 110,000 and Ryan Olisar called from the big blind. Olisar checked on the
board and Musumeci continued for 140,000. Olisar called and the
turned, prompting checks from both players.
The board finished with a
and both players checked once again. Olisar tabled
and Musumeci mucked her hand.
Chip Counts
Amanda Musumeci
4,250,000
-250,000
Ryan Olisar
2,750,000
250,000
Tags: Amanda Musumeci, Ryan Olisar.
A few more hands have gone by with no flops being seen as the players share some chips preflop. Here is how the stacks are looking at the moment.
Chip Counts
Amanda Musumeci
4,500,000
-400,000
Derrick Huang
3,800,000
200,000
Ryan Olisar
2,500,000
-50,000
Ashkan Razavi
2,300,000
250,000
Duy Ho
1,100,000
350,000
Brian Rast
850,000
150,000
Folded to Ryan Olisar in the small blind, he would raise to 155,000. Duy Ho was in the big blind and made the call as a
flop was dealt.
On the flop, Olisar bet 155,000 and Ho quickly raised it up to 310,000. It didn't take long for Olisar to fire back, moving all-in. Ho thought and though before flashing a
and letting it go.
Olisar flashed an
as he raked in his new chips.
Chip Counts
Ryan Olisar
2,550,000
700,000
Duy Ho
750,000
-1,000,000
Tags: Ryan Olisar, Duy Ho.
We have been struggling to see a flop of late. Teh last three hand have seen preflop aggression take down pots. The first of three saw Duy Ho open it up to 150,000 from the cutoff and Ashkan Razavi three-bet to 380,000 in the small blind. Nobody wanted to rumble and he took it down.
The very next hand, Amanda Musumeci opened it to 110,000 and Derrick Huang three-bet to 260,000 in the big blind. The hand after that saw Brian Rast open the button to 100,000. No player wanted to play with the short stack and Rast took down the hand.
Tags: Brian Rast, Ashkan Razavi, Amanda Musumeci, Derrick Huang.
If you've been following along with our ongoing coverage of the 2012 World Series of Poker, you've problem picked up some sort of poker itch. Heck, we know we've got it.
Everyone knows there's no bigger event in the poker world than the WSOP $10,000 Main Event. The event kicks off on July 7, 2012, which means you still have plenty of time to get organized to play it. If you're worried about the $10,000 buy-in (and trust us, we know it can seem a bit steep), PokerNews has you covered with multiple ways you can win your seat for cheap.
Just check out our article Four Ways to Win Your Way Into the 2012 World Series of Poker where we've outlined qualifiers on a number of great online poker sites. You can also win your way into more than just the Main Event, so be sure to check it out.
*Legal restrctions apply based on location.