2012 World Series of Poker ›
Event 9: $1,500 No-Limit Hold'em Re-Entry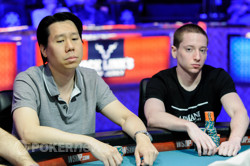 Derrick Huang opened to 110,000 from the cutoff and Ryan Olisar called from the button. The blinds released their hands and the two players were heads up to a flop.
A flop of
was spread out in front of the players. Huang continued out for 120,000 and Olisar quickly dipped into his stack to make the call. The turn brought the
, prompting both players to check.
Fifth street came the
and Huang decided to take control of the hand once again, betting out 250,000. Olisar called but mucked his hand when Huang flipped up
for a turned straight.
Huang has been collecting chips rather quickly as of late, and he is currently second in chips, covered only by Amanda Musumeci. Olisar, however, who started today as the chip leader, has dropped to fourth in chips.
Chip Counts
Derrick Huang
3,600,000
800,000
Ryan Olisar
1,850,000
-750,000
Tags: Derrick Huang, Ryan Olisar.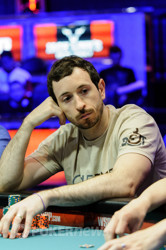 Brian Rast is down to shove mode, holding only a small amount over ten big blinds. He recently did exactly that, but got no action and picked up the blinds and antes.
Chip Counts
Brian Rast
700,000
120,000
Tags: Brian Rast.
Folded to Brian Rast in the small blind, he flicked in enough chips to make the call. Derrick Huang tapped the table in the big blind and the dealer would ready the flop.
Flop:
On the flop, Rast would fire out 65,000 and Huang made the call as a
hit the turn. Rast would again bet, this time 140,000. Another call and the final card would be dealt on the felt, a
.
Rast didn't slow down here, betting 285,000. Huang opted to go with another call.
"Good call," said Rast as he flipped over
for king-high. Huang's
for a pair of jacks would be good enough to rake in the nice pot.
Chip Counts
Derrick Huang
2,800,000
660,000
Brian Rast
580,000
-920,000
Tags: Derrick Huang, Brian Rast.
Action folded around to Derrick Huang's button and he popped it up to 110,000. Ryan Olisar pushed out a three-bet from the small blind, making it 265,000 to go.
Duy Ho got out of the way and Huang sat counting chips before pushing a four-bet of 610,000 into the middle. Olisar timidly flung his hang away and Huang showed the
.
Chip Counts
Ryan Olisar
2,600,000
-390,000
Tags: Derrick Huang, Ryan Olisar.
Duy Ho was the short stack coming back from the break, but that hasn't stopped him getting active. Ho recently took down a hand that started with Ryan Olisar opening to 105,000. Ho was on his direct left and made the call, while Derrick Huang also called.
The
flop would see the action checked to Ho and he would bet 100,000. Huang made the call, while Olisar got out of the way.
The
then hit the turn and Huang would check. This prompted Ho to bet 250,000 - enough to send Huang's cards into the muck and take down the pot.
Chip Counts
Duy Ho
1,750,000
400,000
Tags: Duy Ho, Derrick Huang.
The first hand back from the break, Duy Ho opened to 145,000 from middle position. All the players got out of the way until Brian Rast asked how much Ho had. Rast was in the big blind and after finding out how much Ho had, decided to lay his hand down.
Ho then flicked over
, which prompted Ashkan Razavi to say, "I would have called if i knew that."
Tags: Duy Ho, Brian Rast.
Chip Counts
Amanda Musumeci
4,900,000
600,000
Ryan Olisar
2,990,000
-475,000
Derrick Huang
2,140,000
240,000
Ashkan Razavi
2,050,000
-150,000
Brian Rast
1,500,000
-200,000
Duy Ho
1,350,000
-285,000
Level 27 started
Posted 2012-06-06 GMT-6
Level:

27
Blinds:

25000/50000
Ante:

5000
Players are now on an unscheduled five-minute bathroom break. They will receive their fully scheduled break at the end of the next level.
Ryan Olisar opened to 80,000 and received a snap call from Duy Ho. It folded around to Brian Rast who also opted to tag along. The players saw a flop of
and Rast checked. Olisar continued for 155,000 and once again Ho made a snap call. Rast got out of the way and the two players were off to a turn.
Fourth street brought the
and Olisar pushed out 250,000. Ho turned around to the tournament director and said that he was all in. Olisar pondered over the decision for about a minute before folding his hand, showing the
.
Ho obliged to show his hand to the table:
. Olisar remarked that he made the correct lay down while Ho was stacking his newly obtained chips.
Chip Counts
Ryan Olisar
3,465,000
-485,000
Duy Ho
1,635,000
385,000
Tags: Duy Ho, Ryan Olisar.