2012 World Series of Poker ›
Event 9: $1,500 No-Limit Hold'em Re-Entry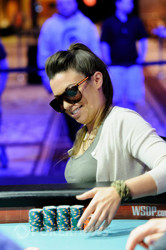 We have a new chip leader thanks to Amanda Musumeci recently taking a pot from Ryan Olisar. The hand in question was opened by Olisar to 80,000. Musumeci then three-bet to 210,000 on the button and Olisar made the call as some cards were dealt on the felt.
Flop:
On the flop, Olisar check-called a bet of 180,000 form Musumeci and a
would hit the turn. This time both players would check and the
would complete the board on the river.
This time when Olisar checked, Musumeci readied a big bet. She had over 500,000 ready to bet and started placing stacks of 100,000 out onto the felt. The tournament director classified the way she bet as a string bet and Musumeci was forced to bet 105,000 - the amount which the first small stack she put onto the felt was.
Olisar immediately called the small bet and then mucked his hand as Musumeci turned over
. Musumeci then asked Olisar if he would have called a bigger bet. He didn't tell her the answer.
Chip Counts
Amanda Musumeci
4,300,000
500,000
Ryan Olisar
3,950,000
-450,000
Tags: Amanda Musumeci, Ryan Olisar.
Chip Counts
Ryan Olisar
4,400,000
345,000
Amanda Musumeci
3,800,000
-100,000
Ashkan Razavi
2,200,000
50,000
Derrick Huang
1,900,000
-350,000
Brian Rast
1,700,000
-200,000
Duy Ho
1,250,000
100,000
With blinds at 20,000/40,000, Duy Ho recently shoved all in for around 1,200,000 from the cut-off seat. He got no action with that big shove and took down the blinds and antes.
Tags: Duy Ho.
After two consecutive busts, fireworks flew once against when Ashkan Razavi raised to 80,000 and Duy Ho plopped a stack of 500,000 into the middle from the big blind. Razavi instantly announced that he was all in and Ho called.
Razavi:

Ho:
"This is an internet dealer," joked tournament director Robbie Thompson.
After the table and the railed shared a laugh, the flop of
was spread out in front of the players. The turn and river brought the
and the
and Razavi's kings were able to hold, awarding him a double up.
Chip Counts
Ashkan Razavi
2,150,000
960,000
Duy Ho
1,150,000
-840,000
Tags: Ashkan Razavi, Duy Ho.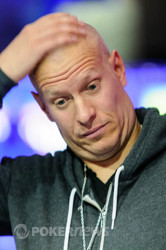 Action folded around to Greg "FBT" Mueller who moved all in for about 600,000. Derrick Huang peered down at his cards and called from the small blind. Ryan Olisar mucked from the big blind and Huang triumphantly tabled
which was crushing the
of Greg Mueller.
Mueller found a glimmer of hope on the
flop, giving him backdoor diamond outs and a jack to make Broadway. The turn brought the
, thus leaving Mueller looking for a jack on the river. Unfortunately for Mueller, the
drilled the river and he became the latest casualty of this final table.
Chip Counts
Derrick Huang
2,250,000
900,000
Greg Mueller
Busted
Tags: Derrick Huang, Greg Mueller.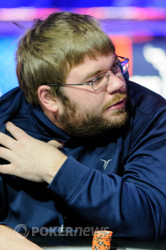 Amanda Musumeci opened to 85,000 from middle position and on her immediate left, Benjmain Reinhart three-bet to 215,000. Action folded back to Amanda who grabbed a large stack of T25,000 chips and moved them to the middle, making it 405,000 to go. Reinhart replied by five-betting all in and Musumeci snap called.
Reinhart:

Musumeci:
The board ran out
and Musumeci's aces were able to hold, sending Reinhart to the rail and vaulting her into the chip lead.
Chip Counts
Amanda Musumeci
3,900,000
1,860,000
Benjamin Reinhart
Busted
Tags: Amanda Musumeci, Benjamin Reinhart.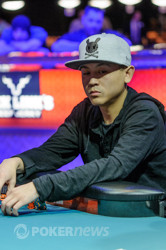 The end of Dien Le's tournament has come to a halt in dramatic fashion as he exits the door in 9th place. It took two back-to-back hands to silence Le and the first one started like this.
Derrick Huang was in middle position when he shoved all-in for 670,000. Dien Le was in the cut-off seat, where he also shoved all-in, with his stack worth 680,000. The play was then on Greg Mueller in the big blind and he immediately got out of his seat. He seemed sickened by what he was seeing.
"I'm allowed to talk about my hand right?" Mueller said. "I'm last to act, i can show my hand or just say what it is?"
He still looked quite unhappy with the decision he would have to make as he said, "I have ace-king in the big blind."
Eventually Mueller decided to lay it down, showing his
as he did so. With Mueller out and two players all in, we would watch the dealer spread five cards on the felt.
Le:

Huang:
By the time the board had run out
, Huang had even more outs and when the
hit the river, he had made his straight to stay alive and prosper. Le however, was down to just 10,000 in chips.
The very next hand, half of Le's stack was all-in with the ante and it would end up being the last hand of his tournament. That hand started with Derrick Huang opening to 85,000. Dien Le then flicked in his last 5,000 and Ashkan Razavi made the call in the big blind.
On the
flop, Razavi checked and Huang bet 105,000. It was enough to get Razavi out of the hand and the two remaining players would turn their hands over. Le's
was in trouble against the
of Huang and despite the
on the turn giving Le some hope, the
on the river would end his tournament life in 9th place.
Chip Counts
Derrick Huang
1,350,000
590,000
Dien Le
Busted
Tags: Derrick Huang, Dien Le.
Ashkan Razavi opened for 80,000 from under the gun only to have Brian Rast push out a three-bet to 210,000. Ryan Olisar called and it folded around to Razavi who also called.
The three players saw a flop of
and Razavi checked. Rast continued out for 285,000 and Olisar quickly called. Razavi got out of the way and the turn brought the
. Rast checked and Olsiar pushed out 455,000. Rast mulled over this decision for about two minutes before mucking
face up, awarding Olisar the pot.
Chip Counts
Ryan Olisar
4,055,000
705,000
Brian Rast
1,900,000
-515,000
Tags: Brian Rast, Ryan Olisar.
Level 26 started
Posted 2012-06-06 GMT-6
Level:

26
Blinds:

20000/40000
Ante:

5000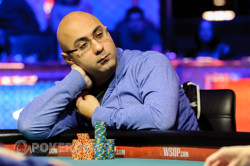 If you look to the rail here at the Event 9 Final Table you will notice a small group of people wearing shirts that have, "Ash Can Do It" printed on them. That seems to be true in the early stages of today's action.
A recent hand saw Ashkan Razavi open it up to 60,000 from middle position. Ryan Olisar made the call on the button and the rest of the table got out of the way.
Flop:
Razavi took his time to bet 90,000 and Olisar took just as long to raise it up to 200,000. This is when the hand sped up somewhat. Razavi would announce he was all-in and before he had the chance to slide his stack into the middle of the felt, Olisar had flicked his cards away.
As Razavi raked in his new chips, his railbirds, shirts and all, started cheering and chanting.
Chip Counts
Ryan Olisar
3,350,000
-365,000
Ashkan Razavi
1,190,000
205,000
Tags: Ashkan Razavi, Ryan Olisar.