Day 1a completed
Posted 2012-06-03 GMT-6
Event 9: $1,500 No-Limit Hold'em Re-Entry
Day 1a completed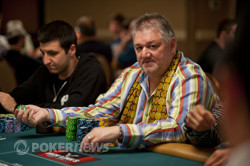 After a long day at the felt, the end of the first day one flight of Event 9: $1,500 No-Limit Hold'em Re-Entry has come to an end!
It all started with a field of 1,696 players spread across three rooms in the Rio. The goal was to play down to 15% of the field and by the end of the night that's exactly how many remained as 254 players will return for Day 2 action on Monday.
All in all it took just under 10 levels to finish the day and that sets precedent for tomorrow's Day 1 flight as those who busted today and a new batch of players will take to the felt in just under 12 hours' time.
One of the players who didn't last long today was Phil Ivey as he busted during the first level of play. Joining Ivey on the rail in the early stages included Erik Cajelais, Jennifer Leigh, Jason Somerville, Vanessa Selbst, Betrand Grospellier and Martin Staszko.
Some of the other players who started the day, but will have to try their luck during tomorrow's day one flight include Bryan Devonshire, Vitaly Lunkin, Kathy Leibert, Justin Bonomo and Dan Smith.
Another player who was looking like he would be finishing the day strong was Jason Mercier, but that didn't end up being the case. Mercier was extremely active throughout the afternoon and managed to be sitting on a well above average stack late into the night. However, it would all be over in just a few hands as Mercier effectively saw his 50,000-chip stack plummet to zero in just a few hands.
Managing to do far better than the above players include Brian Rast, Ari Engel, Terrence Chan and 2010 WSOP Main Event champion Jonathan Duhamel as they will all return on Day 2 with a fighting chance at making a run at a WSOP bracelet. Also surviving the day was PokerNews Hostess, Kristy Arnett.
The biggest stack at the end of the night was Giorgio Medici as he managed to accumulate an impressive 106,500 in chips. Medici has only one previous WSOP cash on his record and will be looking to improve with a big finish here in Event 9.
*Full end-of-day chip counts will be posted when made available
Today was an exciting day on the felt, with this event not disappointing and Andy Bloch managing to overcome Barry Greenstein to win his first WSOP bracelet. Tomorrow is sure to be just as exciting as PokerNews will again be on the floor from 12:00 p.m. local time bringing you all the continued action from Event 9 and from the WSOP.
Players will play one more hand before coloring up the green T25 chips and bagging and tagging. Restart for the surviving players will be on Monday at 1pm.
Only a handful of eliminations are needed before its all over here on the first Day 1 flight of Event 9. Stay tuned for all the last minute action.
Less than an hour ago we followed along with Jason Mercier's action for an orbit around the table. Strolling back to his table, we found his seat vacant. From information gathered from Mercier, we found out exactly how his bust out went down.
A player opened to 1,200 from under the gun and Mercier three-bet to 2,650. Josh Mancuso pushed out a four-bet to 6,650 and the original raiser got out of the way. Mercier called and the two were heads up on a flop of
.
Mercier bet 6,800 and Mancuso moved all in for about 31,000. After some posturing, Mercier called, showing
which was ahead of Mancuso's
. Mancuso held a backdoor club draw, a gutshot wheel draw, or was looking to pair his ace or king. The turn brought a
, cancelling out the club draw, but unfortunately for Mercier, the river brought an
, pairing Mancuso.
After this hand, Mercier was crippled and knocked down to about 4,000. He moved his chips in with
and was called by an opponent's
. The board ran out
and just like that Mercier was sent to the rail.
Chip Counts
Jason Mercier
Busted
Tags: Jason Mercier.
Eli Elezra opened to 1,300 and his opponent in the cutoff called. The rest of the players folded and the two saw a flop.
"I'm going to play this hand standing up," said Elezra's opponent as he rose from his seat.
Elezra opted to join in the standing and the two looked down at a flop of
. Elezra bet 2,000 and his opponent called.
Fourth street was the
and Elezra dropped 2,500 in the middle. His opponent took this opportunity to take a seat and grab a sip from his vodka-cranberry. Elezra was shocked after agreeing to play the hand standing up, so Elezra took his seat as well.
While Elezra's opponent pondered his move, Elezra took a sip from his opponent's vodka-cranberry and winced. "That's so strong!", exclaimed Elezra as he watched his opponent throw in a call.
Both players stood up again for the river and it came
. Elezra, however, did not see this, as he checked the river blind. His opponent checked as well and announced that he paired up his jack on the river. Elezra tabled
for a flopped pair of kings and he was able to take down an interestingly played pot.
Chip Counts
Eli Elezra
20,000
5,000
Tags: Eli Elezra.
David Benyamine has recently busted an opponent and we were there to catch all the action. It was pretty standard really. Benyamine opened with
and a short-stacked player moved all in holding
. Benyamine made the call and five cards were spread along with felt.
Board:
With that hand and a great run later in the day, Benyamine is now sitting behind one of the larger stacks in the room.
Chip Counts
David Benyamine
64,000
23,000
Tags: David Benyamine.
A player opened to 1,300 and received a call from Eli Elezra and another player. Eric Baldwin moved all in for his last remaining 8,125 and the original raiser shipped all in over the top. Elezra and the other opponent folded and the hands were exposed:
Baldwin:

Opponent:
The board ran out
and Baldwin's pair of jacks was able to clinch the double up.
Chip Counts
Eric Baldwin
20,000
15,500
Tags: Eric Baldwin.